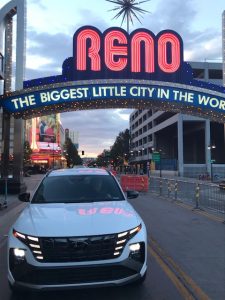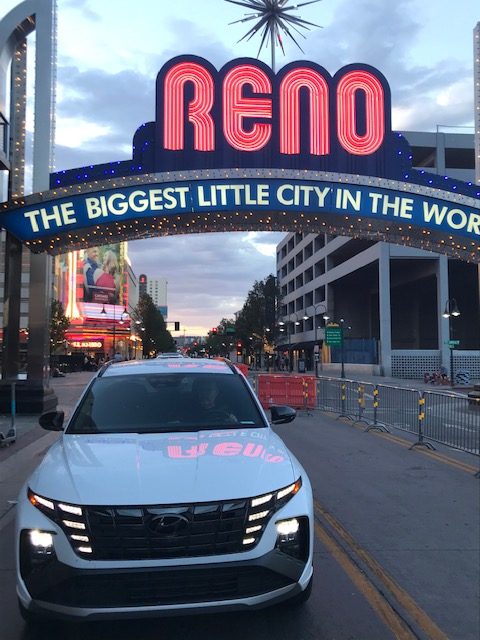 Double click on any image to see it high res and full screen
Hyundai's Tucson and Sante Fe SUVs have now been around so long, we don't often think of them as standardbearers in the marketplace.  This was my chance to drive the recently remodeled, freshened, and more sportified Tucson; nothing like a 2000 mile road trip to shake down a new vehicle.  Hyundai has recently tuned up the brand ID for most of its vehicles, giving them a distinctly Hyundai-identifiable face, grille, and lighting clusters that's pretty much consistent from the smallest models to the largest, including both SUVs and car lines.  The look is sharp too, grilles that look like diamond bezels or facets, glinting, slim LED lighting fixtures, and some curves and other surfaces details that keep the looks unique and anything but flat or slab sided.
My brilliant Quartz White tester was also one of the new N Line models.  In Hyundaispeak, N Line is a combination of styling, performance, and content packaging that, at minimum, competes with most other makers' "Sport Package" and in some instances delivers more than just a bit more flash and lots of black trim.  Hyundai describes the Tucson's N Line treatment as such: "N Line design enhancements give our groundbreaking TUCSON an even edgier, track-inspired look and feel. Outside, you're instantly drawn to the more aggressively styled front and rear designs and N Line unique 19-inch alloy wheels. Combination sport seats plus N badging punch up the interior.."
Tuscon's powertrain remains as standard, N Line or no: that being a 187-hp 2.5 Liter GDI/MPI 4-cylinder engine mated to an 8-speed automatic transmission that gives you shift for yourself capability, called Shifttronic.  The Tuscon can also be had in standard front-wheel drive or optional all-wheel drive form.  There are Hybrid and Plug-In Hybrid Tucson models offered, but my tester was not that.  The 2.5-liter conventional petrol powertrain earns a 25/32 rating from the EPA, with 28mpg combined.
The modern, balanced, and clean Tucson design already looks relatively sporty, but the N Line flavor adds spice; there are N Line red hash-stripes and stitching here and there, inside and out.  The sport seats inside look great, and provide adequate comfort and side grip bolstering without being over the top.  The glinting LED jeweled visage looks great, especially at night, and the borderline huge 19-inch rolling stock also underscores a more aggressive look, not to mention doing wonders for the Tucson's steering response, grip, and handling.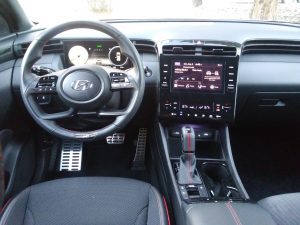 Actually the entire cabin is a treat; the Hyundai/KIA family cars do a generally wonderful job of outfitting smartly designed, functional, and handsome interiors with high quality plastics, fabrics, and materials that look and feel great.  Plus the Tucson reminded us what a smart and practical size it is; never large or ponderous, there's plenty of head/leg/shoulder room for a pair up front and three in the second row.  Drop the second row seatbacks (really easy to do) and its positively cavernous back there.  Plus this rig is uber easy to park; not a mini or a supercompact, but a smart urban size that works well in town or out on the highway.
In these day of EVs that are more powerful than Corvettes, 178 horsepower may not sound exciting, but it's absolutely enough to move the Tucson around town or down the highway smartly and with confidence.  The versatile transmission helps a lot, with a ratio for every occasion, and crisp clean shifting up or down.  The vehicle is zippy enough around town, strong enough for onramps and mountain passes, and really gets rolling when you want it to.  Its real forte is on road handling (lots of credit to the premium Michelin tires here); the chassis is competent and well suspended and controlled, and the 19-inch rolling stock gives you confident turn-in and plenty of grip in the twisties.  The Tucson's safety package is right up to date with modern standards, and the audio system sounds great, and pairs easily with all of your devices.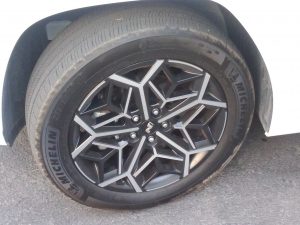 In spite of the sport rolling stock, the Tucson is quiet with minimal road rumble, tire or wind noise — which really keeps things pleasant on a long trip.  We had no trouble equaling the Tucson's EPA ratings, no matter the conditions.  Drumming up a list of complaints about this rig isn't easy; it's just really excellent in most and many ways – does everything well, and makes you happy to drive it.  One small gripe is for the automatic powered open and close function of the rear deck — in most vehicles, you press the button down once (or twice) and the system issues a beeping warning to let everyone around know that the deck is coming up; usually once its moving, you don't have to hold the button down any more for it to finish; in the Tucson's case, you have to hold the fob button down the whole time, and if you let up mid sweep, it'll stop in the middle, not fully opened or closed.
The Tucson's value proposition is strong too, skip the metallic paint and optional floor mats, and you're well equipped and out the door for less than $34K.  The N Line model, IMHO, is the one to have, adding a meaningful measure of sportiness to an already worth package.  Not to mention that 10/year, 100K mile warranty, which is well worth mentioning.  I'd happily spend my own money to own this vehicle if I were shopping this market today.  It's really that good.