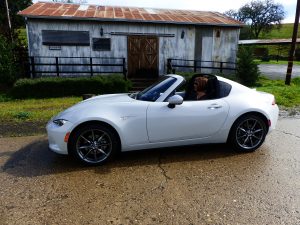 I've always loved Miatas, from the very first 90 horsepower Series I Lotus lookalike to the current 4th gen car.  They are nothing but fun to drive, affordable to buy and carefore, and durable as an anvil.  So it was with some anticipation that I signed myself into a new 2019 RF retractable hardtop model MX-5.  I was most anxious to see how the Tranformer top system actually worked in practice, and to also sample the new-this-year and more powerful 2.0-liter engine performed.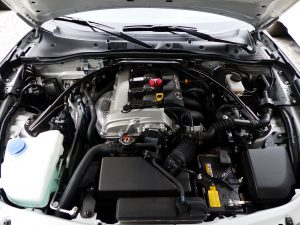 I was impressed with the Gen IV MX-5 when it came to market a few years back, but the engine left me modestly underwhelmed.  It seemed happy enough to rev, and had that bright, zingy personality you hope for in a sports car, but the power wasn't enough to keep up with with the car's fabulous handling.  The previous 2.0-liter engine made a just enough 155 horsepower, but this new one does the business.  But the new for 2019 spec 2.0-liter, has been hot rodded up to a much more like it 181 horse, with some added torque too.  It's just what the car needed to make it once again class best.  Its still zingy and happy, and even revs higher than before, and is the perfect dance partner to the 6-speed manual transmission in my tester; just wiggle your wrist and you've shifted gears, up or down.  The clutch is soft with a smooth take-up, you'll find yourself attacking the redline at every chance, and executing Andretti quality downshifts up and down the mountain roads all day long.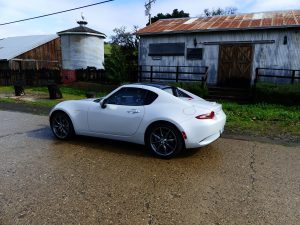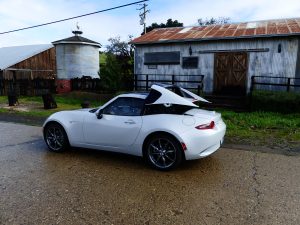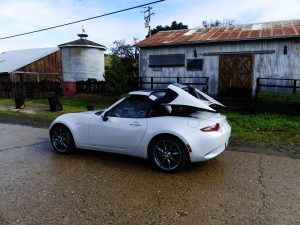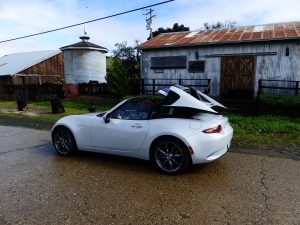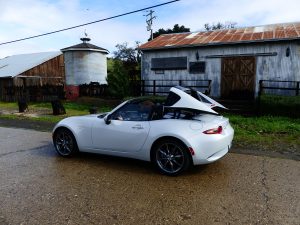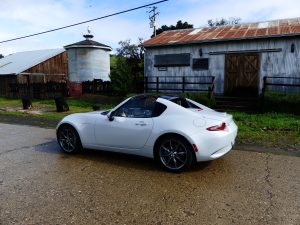 The trick one-touch retracto hardtop also works a treat.  Just hold down the little button, and the solenoids, motors, and limit switches start dancing to lift up the rear access panel, fold up the top, dunk it down into the space, and close it all up neat and sweet as could be.  Or rinse, reverse, and repeat to close it up drum tight and try.   Also worthy of mention is how little wind buffeting you'll experience with the top open; they aero types at Mazda have really trimmed this system out nicely; you can still get wind in hair, but the annoying chop and buffeting you get with some convertibles just isn't here thanks to good design and a built in windblocker.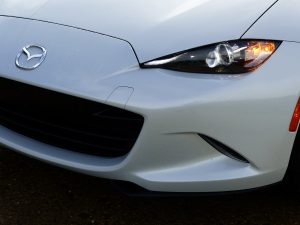 I love the standard configuration soft-top roadster, always appreciating the ability to lower or raise the top at any stop light using one hand, but this high tech top system is a jewel, although it does add miniscule weight to the whole package.  I'd say pick the one you like and you'll be happy either way.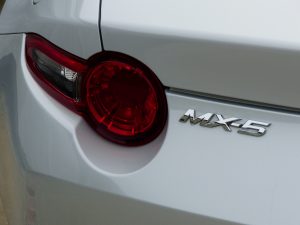 You can still get a fairly modestly equipped MX-5, or you can go full boat like my Grand Touring example, with power everything, a great nav and audio system with full connectivity, fancy 17-inch wheels, big brakes, and leather covered everything.  I didn't think you'd ever be able to spend more than $35,000 on an MX-5; I will say that all of the content and features are there for the money, but it takes the Miata somewhat out of the "cheap and cheerful" category it used to define.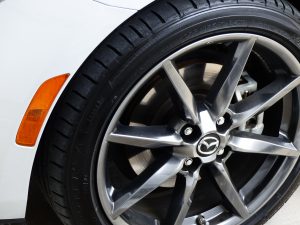 My time with this MX-5 RF included a near 400 mile single day jaunt up coastal California, and that brought light to my one complaint about this car; that (for me, anyway) being the seats.  They initially seemed comfy and supportive enough, but after a full day at the wheel, there was more back and leg discomfort than I expected.  Now, that could certainly just be my old bones…but when you spec out your MX-5 make sure to investigate all seating options and that you are completely comfortable in it.
Otherwise the MX-5 remains nigh to perfect, as a driver-centric pure sports car that performs beautifully and reminds what good handling is all about.  Its attractive, beautifully built and finished, and still makes you smile. Remember my mantra: "When better British roadsters are built, Mazda will build them."