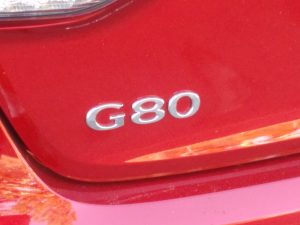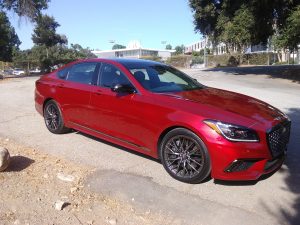 The Genesis brand was initially rolled out of Hyundai somewhat quietly, but has since gotten busy making noise with a bunch of new product. I previously reviewed the G70 on these pages, and that one as you know really rung the bell this year as both North American Car of the Year winner and also Motor Trend's Car of the Year.  Big media awards in the new car biz, and seldom do these two journalistic juggernauts pick the same vehicles for any of their awards; which in this case means that the products were compelling enough that they both came to the same conclusions.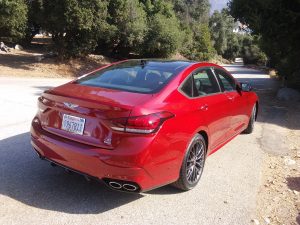 Genesis has handily fleshed out its lineup of G sedans, with the aforementioned G70, the slightly larger G80 (think packaging resembling the BMW 5 Series and Mercedes-Benz E-Class) and the more S-Class like G90 as its flagship.  We can only assume that SUVs, premium crossovers, and perhaps a sports car will also soon follow.  And hopefully some plug in hybrids and pure electrics.
The G80 resembles the G70s basic design and packaging, in this case pumped up to about 115%.  It's a few smidges larger in all dimensions, the most meaningful among them being much increased passenger cabin room and a larger trunk, but it didn't get "big" or overstuffed in any way; it's just a roomier, even more luxurious, but still relatively trim luxury sport sedan.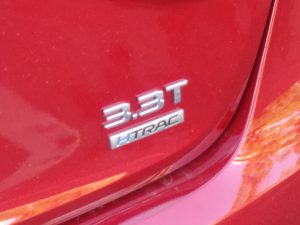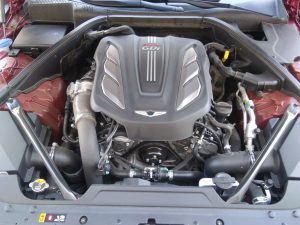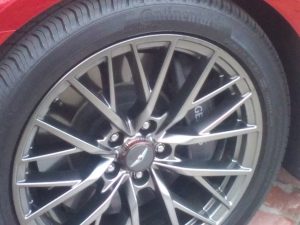 Like the G70, its offered with three powertrain packages, the "base" level being the Hyundai/KIA/Genesis Motor Group's excellent 3.3-liter naturally aspirated V-6 good for 311 horsepower.  Totally fine and adequate for average luxury sedan duty.  But if you want the heart of a KIA Stinger, opt for the twin turbocharged 3.3T which belts out 365 horsepower.  Now the G80 goes from quick enough to genuinely fast.  This is a marvelous engine, which in its KIA Stinger cousin, or in the top notch sibling G70, turns either into sparkling performers.  The 3.3T comes teamed only with a smart shifting and highly responsive 8-speed automatic transmission, and again in the case of my tester, an equally smart all-wheel drive system — tuned to aid handling on any traction (or lack of) surface — they'll sell a lot of these in the wet and snowy states to be sure.  There's also a V-8 model.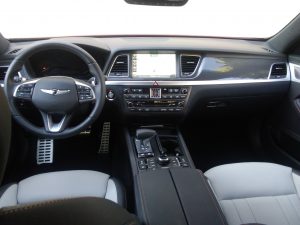 My tester was otherwise fully loaded with every luxury, performance, safety and convenience touch the Genesis factory could stuff into it: a beautifully trimmed multi-toned leather cabin, heated and cooled everything; outstanding infotainment/nav/connectivity system with a bright, clear screen that keeps you tuned in and on track, aggressive (and handsome) 19-inch rolling stock, huge disc brakes, full LED exterior lighting, paddle shifters, and every airbag you could want.  All of which came standard on this T and Sport level trimmed car.  So it has a base price, the mandatory add on for freight and handling, and an all on MSRP with no line item costs for options.  You get it all with this highly comprehensive packaging.  Of course if you can get by with a bit less performance and less creature features, you can package the car less expensively.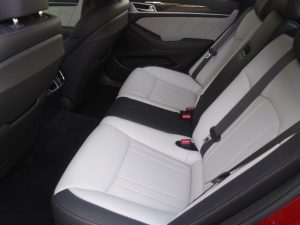 I'm constantly impressed with the materials and fit/finish quality that Hyundai, KIA, and particularly Genesis builds into its vehicles.  Gotta love the contrasting stiching on the upholsterey; some of the bits around the cabin that look like metal actually are, and the plastics are also of varying look and texture, and of high quality.  The dash and instrument panel controls are logical to use and easy to read; I particularly like that many top of mind and commonly reached for controls are still buttons and knobs, meaning you don't have to use a console mouse controller to dig down through five computer menus just to crank up the fan or adjust the temp.  Yet the layout isn't overly busy either.  You can pretty much jump in this car and go drive it without taking a class or having an engineer along for the ride.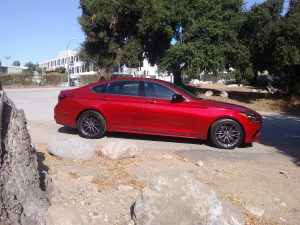 And this car is a road eater.  It's plenty fast, and the turbos phase in so neatly you never sense any turbo lag or "dents" in the power band.  0-60 comes up in the mid-six second range, which not so long ago was American musclecar territory.  The trans is very responsive to road conditions, your right foot, or to the paddle shifters, all when up or downshifting.  The EPA rates this model at 20 overall MPG, with 17/city and 25/highway numbers, which I had no trouble equaling once I stopped throttling this lionhearted engine.  And it corners confidently with quick steering response, a front suspension that speaks clearly, and high grip levels too.  The AWD system is largely transparent; you don't feel it doing or not doing anything to effect handling, it just grips and goes.  This G80 T Sport  is not yet quite a BMW M5, but its fun to drive and lean on a bit.  Plus the brakes are excellent, with good feel, lots of stopping power, and fade free consistency.  Dial it all back a few notches, and its a quiet and smooth luxury sedan.
Any complaints would come down to personal preferences and little niggly things that may stand out to one driver or another; otherwise, this is an outstanding machine, and an absolute competitor to the high priced Germans.  Taller drivers may wish for just a squeege more rear headroom, but other than that, most drivers and occupants will be happy.  Genesis offers a G80 Ultimate model, although I can't imagine how much more tech and spec they could fit in that model level than is already on this one; the Ultimate is powered by a V-8 producing just over 400 horsepower.  Which sounds appealing, but this 3.3T is the one I'd buy were it my money; its good value, superlatively built, and performs beautifully.  What else you be 'askin for?