As always, you can doubleclick on any photo to see it high res and full size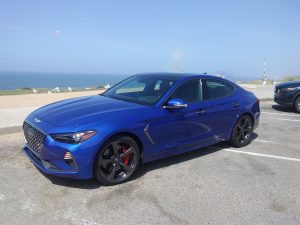 You've probably heard that the rather exceptional KIA Stinger and the new Genesis G70 share a fair amount of chassis platform architecture, suspension components, and powertrains: This is true.  But it is false that they are really the same car, or only minor variations on the theme.  They accomplish many of the same things, but offer different personalities in doing so.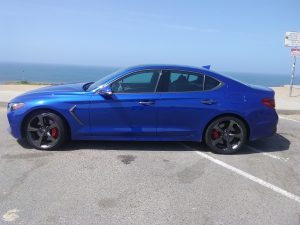 My terribly handsome Sport model was finished in Mallorca Blue (which became Kahuna Blue in my head) over a decidedly upcsale black leather cabin.  Luckily I scored the 3.3T model packing a seriously capable twin-turbo 3.3-liter V-6 boiling out 365 horsepower, backed by the only transmission offering available or needed, that being a very smart shift-by-wire 8-speed automatic.
What splits the Stinger and the G70?  Of course and most obviously the brands themselves, which serve different places in the market and do so with differing personalities.  Another major differentiator comes in terms of design, styling, and body config.  The G70 is a damned handsome, four-door sedan with a conventional trunk, while the Stinger is a hatchback.  My tester came with every option, bell and whistle on the order form, and I'll refer you to the window sticker below for the complete breakdown.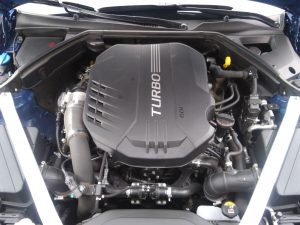 Of course like every other maniac who zeroed in on that 365 horsepower rating, I fired it up, set the trans for Sport mode, and floored the pedal.  This car isn't quick, it is genuinely fast, with most magazine 0-60 tests calling it around 4.3-4.5 seconds, and my semi well calibrated butt dyno confirms that.  It launches hard and pulls long and strong, hitting 100 hardly before you know it.  Twin turbos that are perfectly phased give it an uber wide powerband with lots of punch down low, and frightening mid range, plus lots of top end; no lag, peakiness or flatspots  need apply here.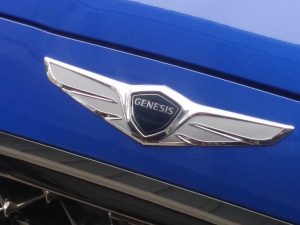 And the 8-speed automatic transmission is a perfect dance partner to this lionhearted engine.  It's not a dual-clutch or auto-clutch manual type robotic manual transmission, instead a very well calibrated and computer managed conventional torque converter box.  With eight ratios, it's got a gear for every occasion, and it is not well, but perfectly calibrated to the engine.  You're never caught out one gear too high or a gear too low (of course with this much power on tap it hardly matters).  And this box is also highly responsive; want a downshift, but just one gear, give it a little right toe.  Want several gears down and violent accel, just mat the pedal.  It's also well attuned to your intent and throttle foot on the upshifts too.  Smooth and hassle free on the cruise too.  Want complete control?  Easy enough just play it on the steering wheel mounted paddle shifter switches, with give you responsive manual control at your whim.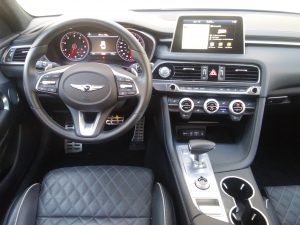 We also couldn't be more impressed with the G70's near Bentley level interior trimmings. The materials are of superb quality to look at, touch or sit on.  High quality plastics, metal, and leather greet you at every point in this cabin.  The diamond quilted leather seat inserts are particularly upscale and elegant.  The seats adjust in every direction, and smartly blend sporty torso hugging support with comfort.  The instrumentation is well laid out, crisp and easy to see and read.   All of the infotainment and connectivity are first rate, with great audio, nav system, and device pairing — all is easy to use and works a treat.
This outstanding chassis makes no excuses either.  The steering is quick and relatively feelsome, with crispt off center responses and no bumpsteer no matter the road conditions.  Body motions are well controlled, and there's little body roll either.  I'd rate ride quality as on the sporty side, firm, but still supple with great long drive comfort.  I'd drive this car from LA to Boston just for chowder, any time.  I didn't have the opp to put the car on a test track, but the grip is superb, and the tires stick with might.  And the big Brembo brakes serve up all the stopping power you could ask for.
There's no such thing as the perfect car, but honestly, I couldn't find a nit worth picking with this machine; its superlative in every way, handsome, luxurious and comfy, plus it performs like a rock star when that's what you want.  I'd say honestly its the measure of other prime filet such as the Mercedes-Benz C43 AMG, and doesn't take much sass from a BMW M3 either.  Plus it offers a value message neither can match…my tester was all in and loaded for a few sheckles over $50K.
Maybe its no wonder that the G70 lineup was both North American Car of the Year and Motor Trend's car of the year.  Good enough for me, and if I wanted a hot performance luxury sport sedan, I'd happily spend my own money for this car, and I suspect you would be equally pleased with it.