I've been on an alt energy kick lately, working to get into every hybrid, BHEV or pure electric vehicle I can test. These technologies are advancing, becoming more prevalent, and affordable. And gas isn't.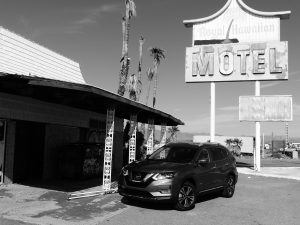 So the need for a quick 500 mile trip to Vegas gave me good reason to try another new Hybrid. This time Nissan's Rogue Hybrid. It's always amazed me that more carmakers don't produce more hybrid versions of their SUVs, crossovers and minivans, because they represent the low hanging fruit of vehicles that would benefit from improved fuel mileage.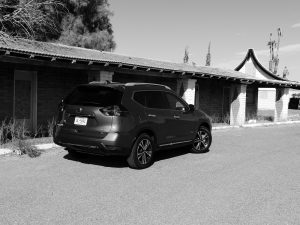 I didn't care a lot for the first generation Rogue of some years back; the styling was tepid, the interior a little too cheaply finished, and it was underpowered.  Not so this new one, now styled like a cross between a Pathfinder, a Murano and the old Rogue, it's eyecatching with lots of interesting surface detail.  Plus the interior is totally up to snuff.  Some hybrid crossovers don't offer you AWD, for some its just FWD only; well what good is a crossover/SUV if you can't take it up a snowy road when you need to.  Nissan gives you that choice with the Rogue Hybrid.  Nissan charges a reasonable price premium for the hybrid hardware so you're not paying too much to save some fuel costs (otherwise, what's the point?),  Plus on the SL Hybrid package, Nissan includes some things you'd normally pay a lot extra for, so the wash comes out pretty favorably.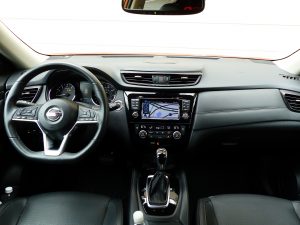 My SL level tester was loaded to its gills, with nice leather trimmed cabin, Bose audio, and the top level infotainment system including great connectivity, and a large bright nav screen.  The hybrid system is logical enough, with a 2.0-liter I-4 gasoline engine aided and abedded by an electric motor, with total system horsepower at 178, more than enough for this rig.  Its backed up by Nissan's continuously variable transmission system offering a "Sport" Shifter giving you some control over those ratios, plus an Eco mode.  You can peruse the window sticker below to check out the rest of the bells and whistles.  I particularly liked that the headlight clusters and daytime running lights are all bright, clean, clear and quick reacting LEDs.  Believe me, you hit the brights on this thing and it becomes daylight — this car's got eyes.  And this blindspot warning system is also particularly good.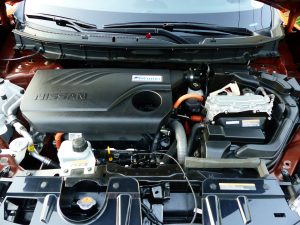 This hybrid system (now home grown and engineered by Nissan, no longer licensed from Toyota) operates like most others.  It incorporates engine stop/start which means that, once fully warmed, the engine shuts down at idle and stoplights, then the big electric motor silently restarts it when you take off.  And electric assist cycles in and out when it can do the most good in terms of adding power and or saving fuel.  One come cars, this function isn't all that smooth or transparent.  Yet Nissan has done a great job of calibrating everything to where the start/stop all happens smoothly, and on the roll you're hard pressed to tell when the motor cycles in and out.  Really well done here.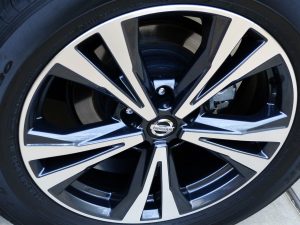 Everything else about the Rogue proved a treat.  The beefy 18-inch rolling stock looks great, rides well, and imbues this rig with great cornering and handling ability.  Body motions are well controlled, and I found myself pushing it a bit through the corners because it stuck so well.  Performance isn't quite up to most V-6 levels (although close), but then again the fuel mileage is better.  Visibility is great, the seats are comfy, the cabin is quiet and well finished, with great room front and back, and a large enough cargo area.
You may wonder about the mileage vs. a conventional four-cylinder Rogue.  The base non hybrid Rogue rates 26/33 with the EPA, while this one goes better at 31/34 which I easily attained.  In the world of small hybrid sedans that are rated at close to 60mpg, this may not sound impressive, but remember, the Rogue is a comfortably mid-sized crossover (not as aerodynamic as something like a Prius) and much heavier.  Plus it has AWD.  So on balance, the hybrid hardware earns its keep and price premium. You may wonder why it isn't a plug-in hybrid (BHEV).  That would of course yield even higher overall mileage, but cost more.  In as much as Nissan is going big on battery electrics (the Leaf) it wouldn't surprise me to see a plug-in hybrid or pure electric Rogue in the future should Nissan decide to offer it.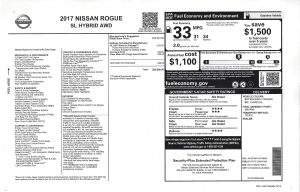 All in I found the Nissan Rogue SL Hybrid AWD a satisfying piece.  It's high quality, the hybrid system operates well and delivers meaningful fuel economy benefit, and the vehicle packs all the up to date tech, comfort, and infotainment content you'd want.
Drive it and I think you'd enjoy it a lot.