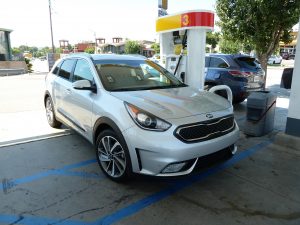 I've often wondered why there aren't more Hybrid SUVs and crossovers out there.  KIA has come to the rescue with a handy, attractive little guy called Niro.  It's purely a crossover, with no low range 4WD in the mix for rock hopping or hill climbing.  But it's a smartly sized, handsome, compact-to-medium CUV that will handle all sorts of commuting and weekender chores with ease.  It's taller and more SUV like than any compact sedan or wagon, yet not trucky either.  And just the ticket for the near thousand mile road trip I had planned for it.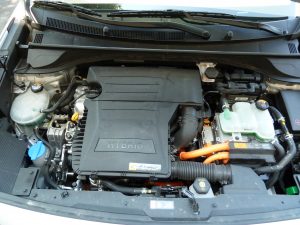 The front wheel drive Niro is powered by a small inline four cylinder engine, backed up and enhanced by a 43 horsepower electric motor — its powertrain technology and architecture is much like that of the Toyota Prius.  The electric motor adds low end punch for off the line acceleration, and of course helps the gas engine get the most out of each gallon.  It's EPA rated at 46 city, 40 highway and 43 combined.  Not as high as some of the plug-in hybrids, but not as expensive either.  And I'll tell you right off the bat that it delivered on those mileage promises too.  I consistently averaged low 40s for my mostly highway and partly in town road trip.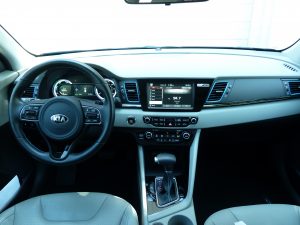 The Touring model is the top spec Niro, and has about everything you'd want in a car; all the electronic, infotainment, and safety features you expect in a modern compact, and then some.  The leather seat trim is nice, it has a power moonroof, and a great infotainment system and nav.  Very comfy, quiet, and smooth riding too.  Great packaging too; plenty of room inside without being huge, and a nice sized rear cargo area that got giant with the second row seat lowered.  And really great visibility too.
No complaints about the performance either, with one exception.  If you weren't smooth back on the throttle after coming to a stop, it would occasionally serve up a little jolt once you got back on the gas.  I found I could drive around it by being extra smooth.  Not sure if that's a problem with this model or just a quirk with my particular test unit.  Not a deal killer but I'd not be doing my job if I didn't mention it.
It's a good handler too, with responsive steering, plenty of grip, and minimal body roll, with generally well controlled body motions.  It's not a sports racer, but neither is it floaty or mushy.  The electric power steering doesn't offer a lot of road feel, but is light and makes the car easy to park.
The fit, finish, and materials quality are really first rate.  You get the feeling of quality from everything you see or touch.  No rattles, and not a stitch out of place.
Perhaps the Niro's most compelling messages are versatility and value for money.  The roomy, easy to live with packaging is darn handy for any driving or weekend transportation needs.  Holds lots of stuff for its size.  And with an all-in, bells and whistles included sticker price of just pennies over $30K, including a great warranty, safety package, and hybrid fuel economy, it's a screaming bargain.  I would happily and comfortably put either of my daughters or my wife (or myself) in it as an every day car.
If you've been thinking about a compact crossover that offers hybrid power and economy, safety, technology, quality, and a superb value proposition you'd do well to consider the Niro.
I'd happily spend my own money for this car, and believe you'd enjoy it too.