Here's another one I drove several months back but never got around to talking about.  The 2017 is virtually identical so your shopping considerations shouldn't be impacted in any meaningful detail.
The first generation of Nissan's style driven Murano never impressed me a lot.  Sure, it had that avante guard look, a solid chassis architecture, and Nissan's often wonderful VQ family V-6 engine, with plenty of smooth power and aggressive snort from the dual exhaust pipes.  However the detailing was a little sloppy, and the interior didn't measure up to the exterior promise.
But it sold well enough for Nissan to give it a thorough remodel a few years back.  To my eye, the result is wholly more satisfying on several measures.  The look is even more aggressive, with finer surface detailing and finish.  The interior is also a more upper end design, and the mechanicals and infotainment packages have also been updated and freshened.  I can't think of an option or feature that my "Platinum" level model didn't have, now granted this is the top of the Murano lineup, so that should be expected.
In several models, the Nissan V-6 has been increased in displacement from 3.5-liters to 3.7, and while power has equally bumped, in many applications, the now larger engine isn't as smooth as the 3.5 was, a little grainy at high rpm or when being pushed under load, but fortunately it remains a 3.5 in this application, and stays smooth, lusty and plenty powerful, giving sparkling performance in this mid sized luxury SUV.  The CVT transmission, which Nissan appears staunchly committed to, has also been improved with dents and "faux" shifts as the engine climbs the rev range, so it feel more like a normal automatic transmission that most people are used to.
As you can see from the window sticker below, my tester had every bell, whistle, safety feature, and luxury touch you could imagine.  If it had an Infiniti badge on it, you wouldn't know it wasn't.  The interior woodlike trim looks a little fake, but the rest of the quality of the materials, plastics, chrome, and leather are first rate, nice looking and feeling stuff.  Plus the ambient lighting gives the cabin a soft easy on the eyes glow at night.  The infotainment and connectivity hardware is really good to — easy to use with a superb controal and command screen too.  Latest and greatest stuff here.
This vehicle proved exceptional comfy for my 400 or so mile (each way) jaunt to California's wine country.  The seats are terrific, and the visibility also good.  Even on the aggressive 20-inch rolling stock, the ride quality proved firmly supple, with great handling and good body control when pushed.  Of course, as these 20-inch tires wear and age, they'll get noisy, but so far so good while fresh and new.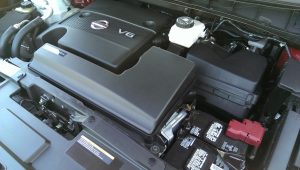 No complaints performance wise; this engine rates 260 horsepower and you feel every single one of them.  Plenty of power, down low or up high, with a great sound, and lustily smooth.  I never had a chance to drive it wet, mud or snow but have no reason to believe the chassis and AWD wouldn't keep it driving well and safe in those conditions.
It's a fair amount of dough, but the content and quality is all there for the money.  My biggest gripe on the window sticker is that, even though this is the Platinum model, and bases for more than $40,000, Nissan still has the nerve to charge extra for floormats and a carpeted cargo area mat.  BS!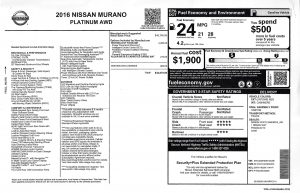 If you like the Murano, I think you'll like this one.  The design has dazzle, the interior has everything, and it drives beautifully.  Shop and enjoy.