Sir, your four door Camaro SS is waiting…
The new Chevrolet SS Super Sport sedan has lived many lives in many different countries under several names and badges. In Australia, it's a Holden. In England, A Vaxhuall, and an Opel in Germany. It was here in the United States a few years back as the Pontiac G8 and G8 GXP. And with the dismissal of Pontiac from GM' brand roster, it's been reborn as a Chevrolet, which is great. It really fits the mold of a Chevy SS; with its muscled four-door platform and rear wheel drive; even as Chevy put supercharged V-6s and later small V-8s into its previous gen front drive Impala SS, the marketplace never bought into them as real American musclecars. Now that's all fixed with the replacement for those cars with this. And this SS is something special. So good and so ballsy is this car that it is also offered in police interceptor form. Which makes sense, since its got good bones, and the old Caprice and Crown Vic cop cars are gone. The new SS chassis architecture stems directly from the Aussie Holden, which is a serious performance car in that country, and both share considerable underpinnings commonality with the current gen Camaro.
The SS is available in somewhat more pedestrian V-6 powered form, but thunder lovers will head straight for the Camaro's 6.2-liter V-8, in this application rated at 415 horsepower and 415 pounds-feet of torque. This magnificent most current iteration of Chevy's ageless small-block V-8 is a stormer, and backed by a 6-speed multi mode automatic transmission that offers a sport shift mode and paddle shifting. 0-60? Around five seconds — and passing power you just won't believe. Fully independent handling-oriented suspension, huge Brembo front brakes, serious wheels and tires. And all the trimmings inside, with high quality fit and finish, and comfy leather sport seating. Nice instrumentation, electronics and infotainment.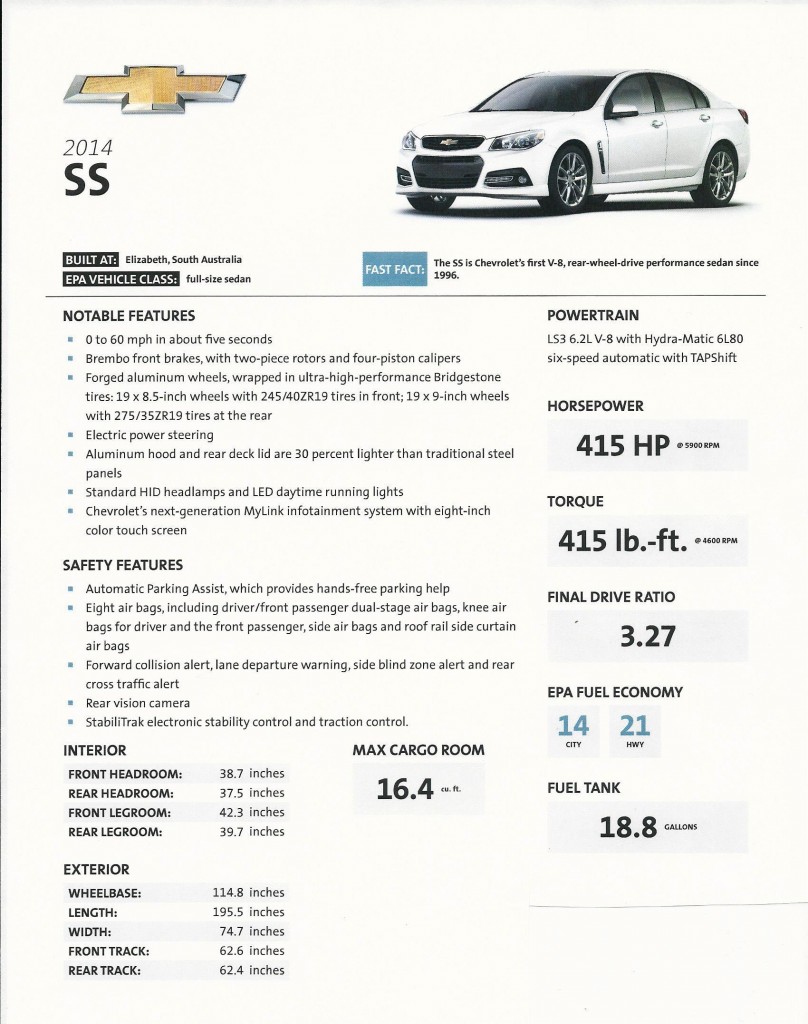 Just take a cruise through the window sticker for my Phantom Black tester ad you'll see that the equipment level is high. And the price, for what you get, isn't.
And you'll love the sound this car makes, at idle, under load, or cruising, its pure American muscle. A new C7 Vette doesn't sound any better.  You'll be throttling this car all over town just to listen to it.  And is really fast.  And my goodness does it handle too, plus the ride is firm but never punishing.  I loved the high cornering grip, feelsome communicative steering, and sharp handling response.  American muscle performance with the best European road manners bred in with it.  There's no such thing as a perfect car, but honestly, I couldn't find a single thing I didn't like about this one; I'd spend my own money for one, if I needed this type of car in my stable which I don't in the moment.  Drive one and I promise you won't be disapointed.
All said and done, the formula reminds me very much of that used so effectively by BMW M or Mercedes-Benz AMG and even SRT for that matter.  Take a great mid-sized sedan platform, step up the looks, crank up the handling prowess, boost the horsepower, and amp the exclusivity just a smidge.  Its a great cake mix; bake it, frost it, and enjoy any time of day.
And, BTW, for you doubters: the 6-speed automatic is very responsive to the commands of your right foot, or your hand on the shifter or paddles, but if you absolutely must have an old school, clutch and stick, 6-speed manual tranny, I'm hearing you'll be able to get one on this car for MY2015.
If you want an M5 or E63 AMG and can't hack the sticker (or like the Camaro SS but need four doors and more room) I heartily recommend the new Chevy SS.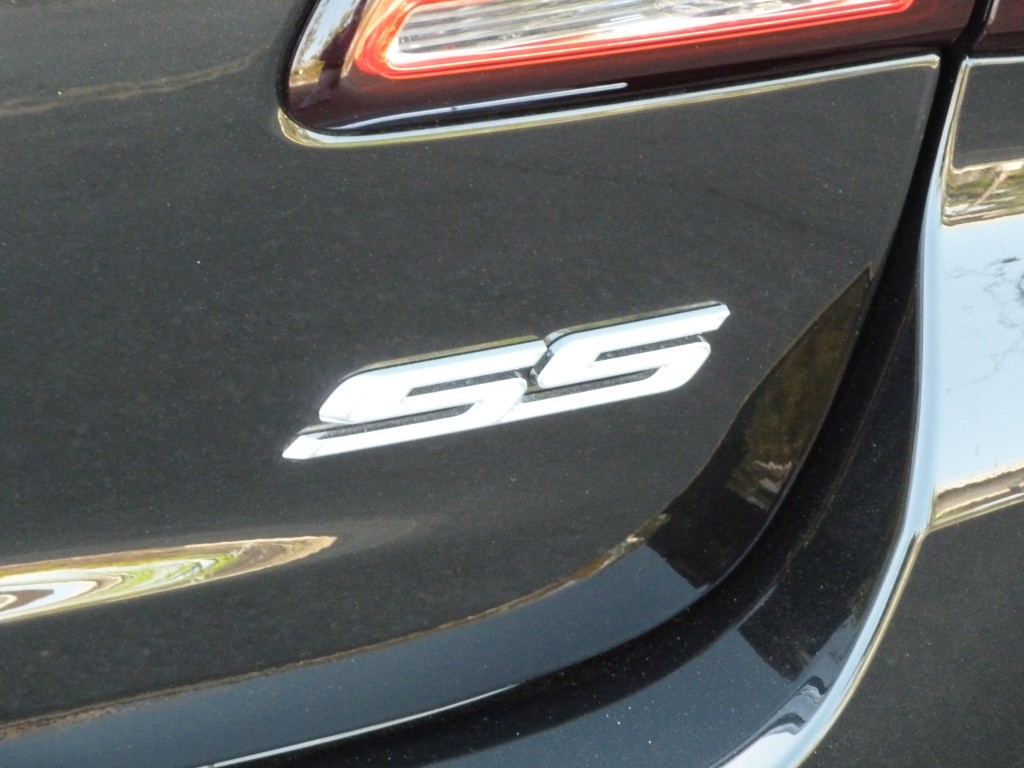 The American muscle sedan lives, and in this case lives well.