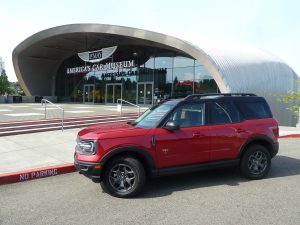 2,600-MILE WEST COAST ROAD TRIP IN A BRONCO SPORT ALL 'THUMBS-UP'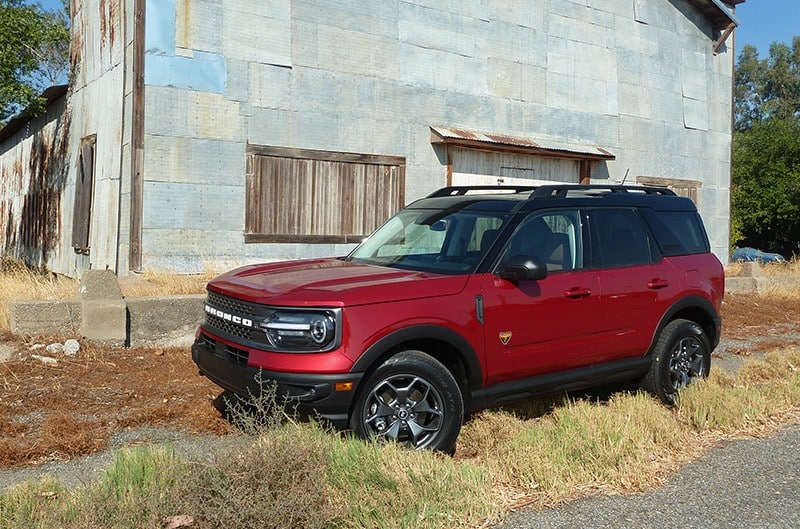 The birth and product launch of Ford's new Bronco and Bronco Sport have earned nearly as much excitement and following as have any Ford GT or Shelby models of recent history. By developing the model lines in a two-pronged product approach, the new Bronco delivers on the promise of a legit Bronco descendant that properly follows and pays tribute to the original rough-and-tumble Bronc of the late 1960's and early '70s, and the Bronco Sport allows for a five-door bodystyle and a more every day, user-friendly, approachable compact SUV that can still dance in the dirt, but also works for the commute, carpool and travel. In anticipation of our Great Pacific Northwest Tour (traversing most of California, all of Oregon, and miles short of the Canadian border, thus all of Washington state), we spec'd out a G.O.A.T-equipped, Badlands model Bronco Sport, thinking that such a vehicle will represent a high percentage of new Broncos that'll be sold.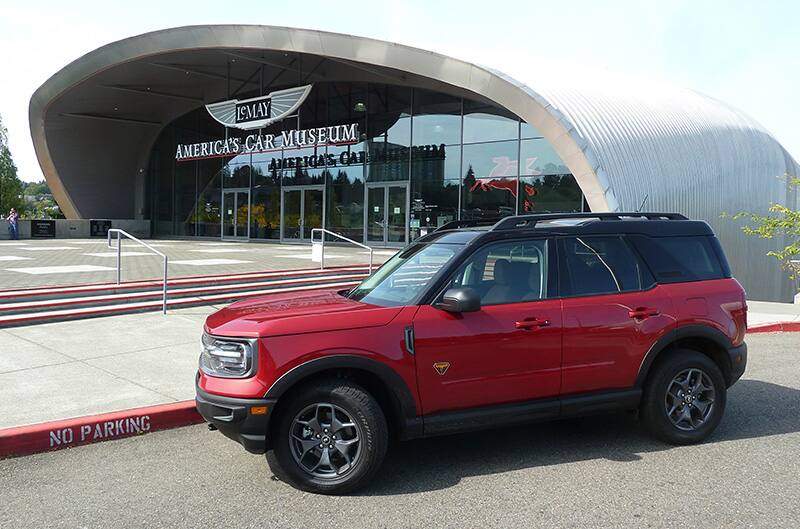 Our Rapid Red Sport 4×4 packed the 2.0-liter EcoBoost I-4 good for 250 horsepower, backed by a highly intelligent 8-speed automatic transmission, ensuring lots of flexible power, and the promise of reasonable fuel economy. The EPA rates this model as high as 25 mpg in the city, 28 mpg on the highway, and 26 mpg combined. This highly equipped Badlands configuration requires (or even offers) little in the way of optional equipment, as it comes packed to the brim with safety, luxury, technology, connectivity, performance equipment and capability. The Ebony Roast leather and Alcantara trimmed interior is a compelling combination of luxury, and "outdoorsy" — with a bit of industriotech mixed in. The black-and-chocolate color scheme sounds odd at first, but is classy and elegant in person. Naturally the G.O.A.T. (Goes Over Any Terrain) drive modes option was a must for us, allowing for standard, economy, and sport driving modes, plus single dial selections that calibrate a wide variety of factors for mud, sand, or rock crawling; the days of hopping out to engage locking hubs, or fighting with a recalcitrant transfer case shifter, are over. We'll speak much more of other equipment and options along the way.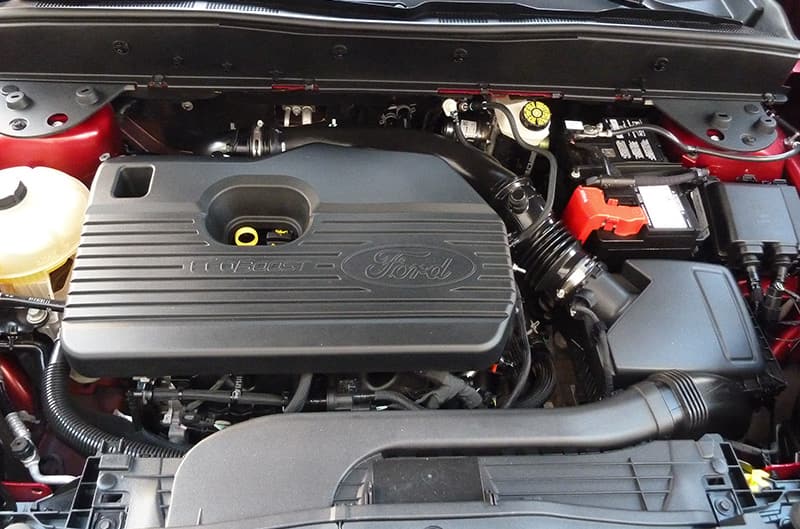 This trip's reason for being was to complete an unfinished project from last year. We had laid out a marvelous agenda to include central and northern California, much of Oregon and northern Washington State in the fall of 2020 — the latter 60 percent of that plan was put to rest by COVID, and catastrophic wildfires in Southern Oregon and greater Portland. So we only got as far as Medford the first go 'round, a mere 25 or so miles north of the Cali/Oregon border, and had to head back south. Seems all of our smoke-choked constituents north of there said, "Miss you, love to see you . . . but don't come." So it was mission unaccomplished. By late 2021, with COVID being a more manageable situation (and in spite of some fires in Northern California and Southern Oregon), we vowed to finish the job.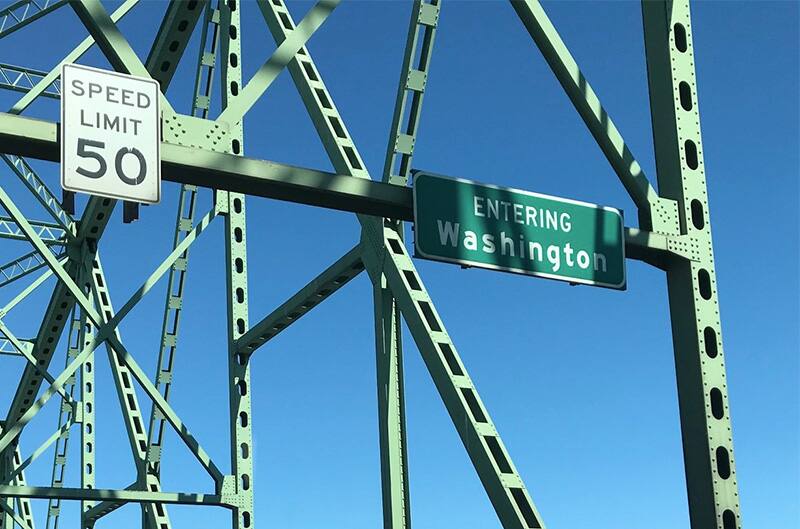 Among the first things that, upon delivery, impressed us about the Bronco Sport were its attractive, polished yet rough-'n'-ready design features. It looks great, and promises fun on or off the road. And more particularly notable was its functional size; we had a very full complement of luggage and other cargo to carry with us North, and the Bronc swallowed it all with aplomb. By way of examples, in the Ford lineup, an Expedition certainly would have held it all — and then some. The pint-sized EcoSport would not.  Folding just one panel of the Bronco Sport's split rear seatback was enough to fit it all in. Particularly handy is the nicely trick rear window and decklid combo; actuate the opener one way and only the rear window opens. Pop it the other way, and the whole rear deck opens wide. Not a new invention, but more a reminder of how handy this feature truly is.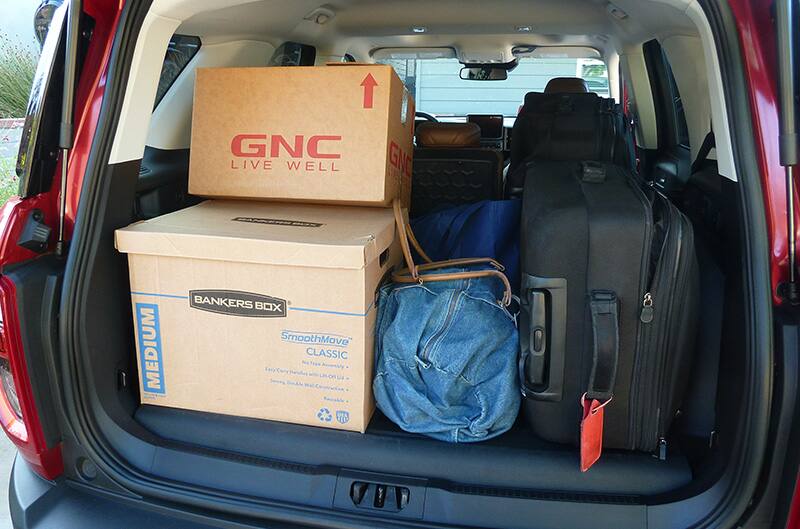 Our first stop was in the Vacaville / Fairfield area of Northern California, near Travis Air Force base, to visit serious car buddy Mike and his wife — a most-interesting guy (and gal) and committed Ford peeps. They have two, not just one, DeTomaso Panteras in their garage (yes, one is Lori's, and yes, she drives it), plus a handsome '65-66 Shelby GT350 tribute car. Mike is a big-game military pilot, and had just come off a stint flying massive C5 Galaxy cargo jets (about the size of a 747) ferrying large quantities of people and stuff out of Afghanistan. After a night there, mere miles from the sprawling Travis Air Base, it was off to Medford, Oregon the next morning to attend and participate in the Gathering at The Oaks (country club) classic car show.  See our full report on that show on FordPerformance.com here: https://performance.ford.com/enthusiasts/quick-look/2022/03/oaks-car-show.html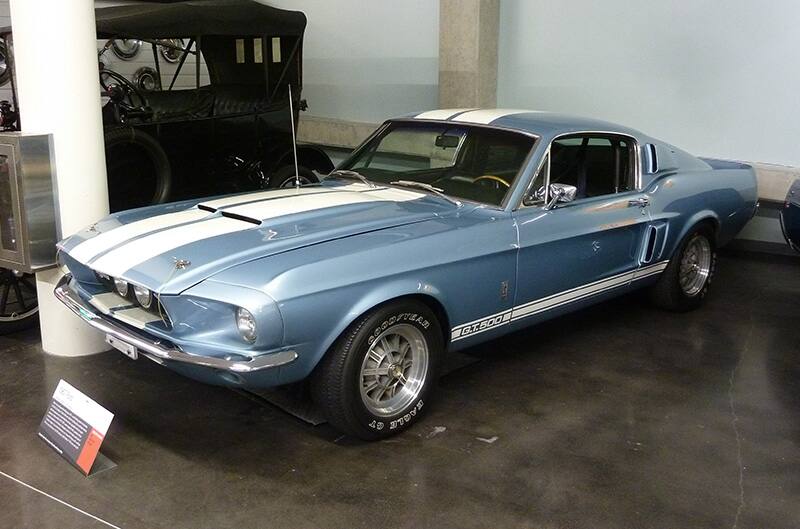 After a few days of chillin' with friends in and around Medford, we pointed the Bronco Sport north toward Washington to visit my longtime (58 years) friend Dan and wife Vivienne. They retired a few years back and relocated their lives to a farmy small town called Everson, about a hundred miles north of Seattle. One of the great joys of traveling through rural areas is not only the often charming — or at least interesting — small towns you drive through, and (again often) the plethora of old cars, trucks and bikes you'll see along the trail. Of course our days became longer as every small town and highway-side junkyard we passed seems to offer another photo opp.  We saw more old Studebakers in rural Oregon and Washington than you can shake a torque wrench at.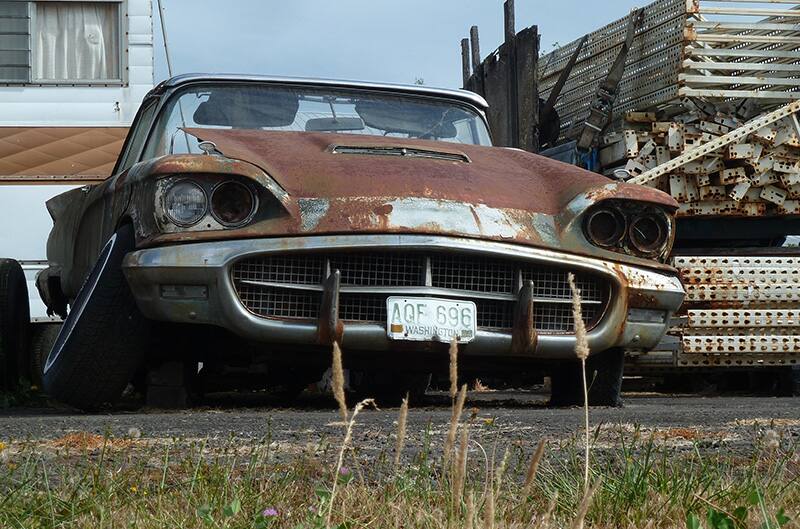 Even though it's somewhat cliché, I was bound and determined to photograph the new Bronco Sport up next to an original '60s Bronco, yet little did I suspect that I'd find a roadside wrecking yard that held, not one but two early Broncs. So it was take next exit, slam on brakes, fire up the camera. One of the somewhat hapless but complete Broncos was sitting outside, right next to the service road, so getting the shot was no more complicated than pulling up next to it, and shooting away. Your general average wrecking yard guy (we'll call him Slim), replete with the John Deere ball cap and denim overalls, looked up and waved at us, but getting the shots was no more hassle than that. We never saw a sign, name or phone number on this place, but it was packed with great old cars in varying condition, and levels of completeness or decay. This yard, and another called "Mike's" displayed more than a few "No Trespassing" signs, so we didn't hop any fences or rattle any gates, for fear of junkyard dog or shotgun welcomes. But as long as we stayed outside the property confines, nobody said a word or bothered us. We also noticed a proliferation of Square era (1958-60) and Rocket era (1961-63) Thunderbirds in these yards, on trailers, at the side of the road, and in peoples' back (or front) yards.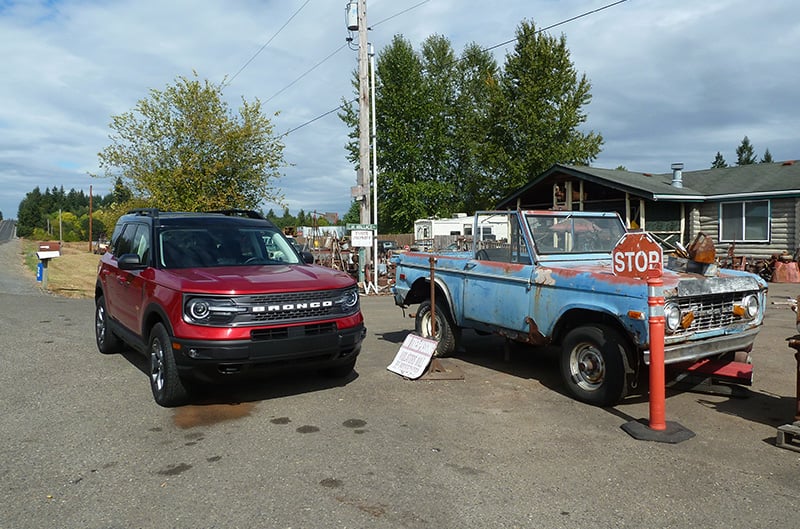 All in, and everywhere we went, the Bronco Sport proved a worthy road warrior and drew more than its fair share of waves and "thumbs-ups." Supremely comfortable and quiet, with a firm yet supple ride, this little guy ate up big highways and country roads with equal aplomb. It's also a great handler – with a well-controlled suspension, sharp steering, and all the brakes you could ask for; it never burped and just covered miles by the hundreds with little more than a yawn. A big part of the cornering prowess, with commendably little body roll, goes to the beefy rolling stock, with wide, 17-inch alloy wheels, and premium Pirelli all-terrain tires. Yet this rubber also felt solidly planted with good traction, even on rain-soaked highways. Wind noise from the body is commendably minimal, and in spite of the low-profile tires and the firm-yet-supple suspension, road rumble and tire noise was a nonstarter.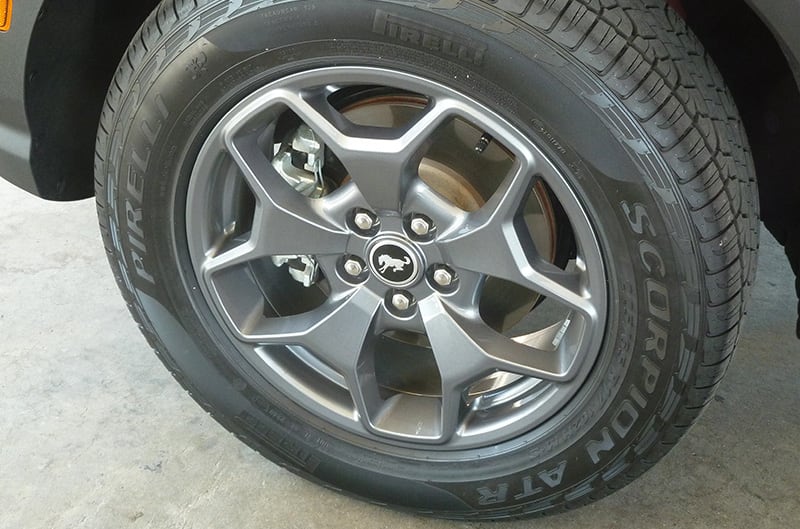 We also couldn't ask more from the EcoBoost powertrain. This mighty little motor accelerates strongly either from a stop, mid-range, or when passing, with more than meaningful torque. We cruised at or above the speed limits everywhere we went, and always felt in control climbing steep grades or passing triple-trailered semis. The 8-speeder transmission is a brilliant dance partner for the engine, with a ratio for every occasion, crisp yet smooth shifts, and smart responses to the wishes of your right foot.  We tested the various Normal, Sport, and Eco drive modes, and while the Sport mode does feel a little sportier with higher rpm shift, there's no discernable degradation of performance in the Normal and Eco modes either. Take your pick depending on your need and mood, and you'll be happy.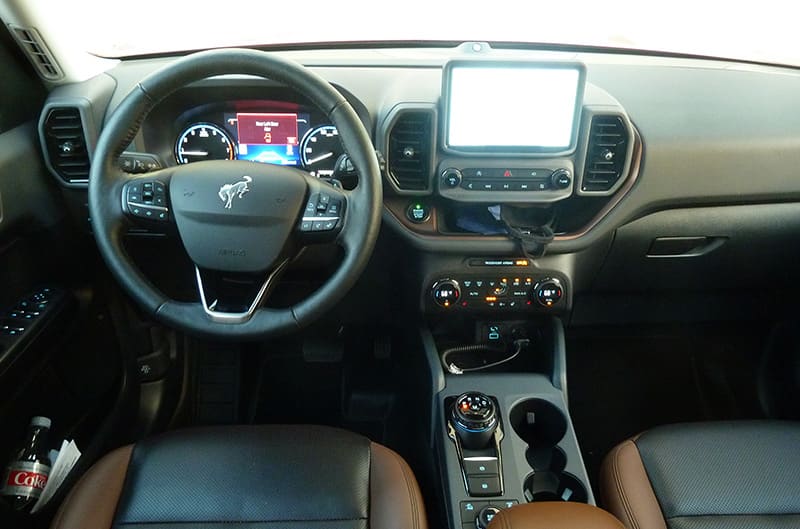 The Bronco Sport's infotainment and connectivity tech also work a treat; the 10-speaker B & O audio system sounds positively symphonic, and pairing it with an iPod or phone is easy. The touch screen is bright, clear, and sharp. About our only complaint is that it can take a lot of menu-surfing and button-pushing to get to the item, readout, or reset that you may want – simply resetting the trip odometer is several menu items down, but the amount of information you can call up to the instrument panel is amazing.  Once you have it all set up and programmed the way you want, it all works great.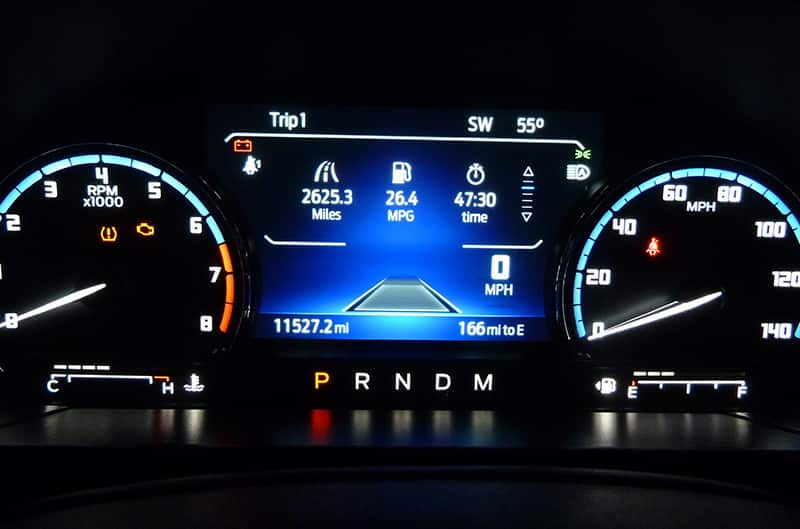 The aforementioned buddy Dan is a died-in-the-wool, confirmed hard-core Ford truck guy, and was most enthused to check out the Bronco Sport, or should we say his wife, Vivienne, was most enthused to check out and drive the Bronco, because she's already decided she wants one to replace her still like-new Explorer. Now in his middle 60s, Dan noted that he's not lived a day in his life without a Ford truck of one sort of another, in his ownership or immediate family. Should a Bronco Sport soon join his fleet, it'll park next to his new Ranger. Ford Blue, through and through, this guy.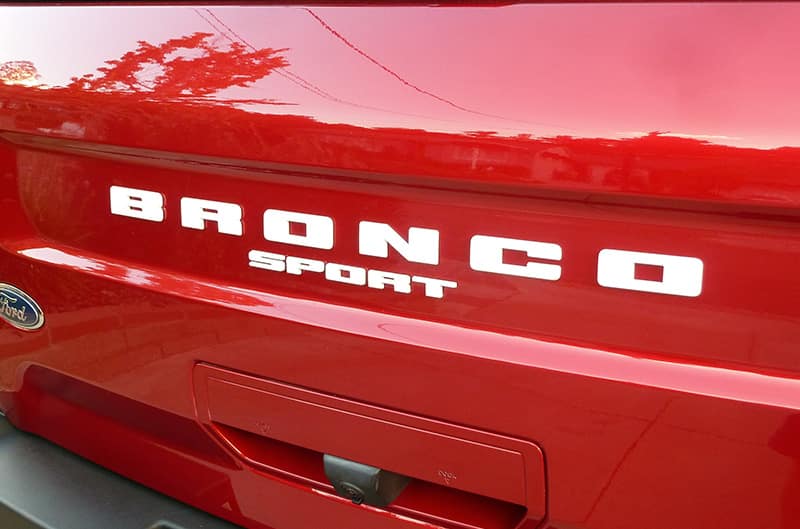 Everson was our northernmost stop, so from there it was south to Tacoma – and wonderful city that is too often cast in the shadow of Seattle – home of the rather breathtaking LeMay – America's Car Museum. The late Harold LeMay, and wife Nancy, made their fortune in the trash truck and refuse business, and amassed a private family collection of some 3,000 vehicles. The LeMay family, the city of Tacoma and a high-powered group of business and automotive enthusiast and industry types banded together to form a non-profit foundation, with the express intent of creating a world-class, purpose-designed and -built, museum campus — all to own, care for, house, and display the LeMay collection. The 165,000-square-foot LeMay – America's Car Museum, opened in 2012. Located just across the driveway from the TacomaDome sports and entertainment complex, the dramatically designed Le May property is a certain jewel in the city of Tacoma's civic treasures – clearly visible from Highway 5, with a postcard view of the harbor and Pacific Ocean to the west.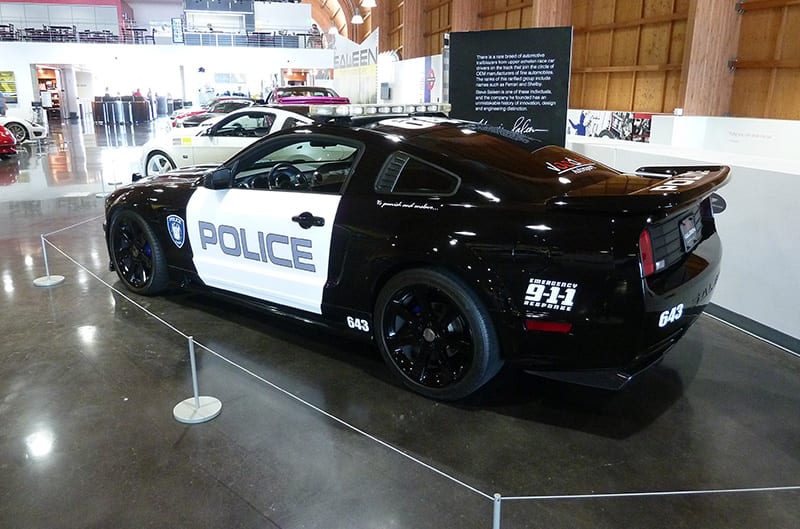 If your Bucket List includes visiting America's (or the world's) greatest car museums, the LeMay deserves an instant reservation on your agenda. There are always dozens, if not hundreds, of the family's own cars on display (all now belonging to the Museum), plus a smorgasbord of rotating exhibits with lots to please everyone. During our visit, the special exhibits included The British Invasion, Custom coachworks, Alfa Romeo, Honda motorcycles, and Saleen Autosport road and racing cars. Every inch of this property is immaculate, the museumcraft and graphics are world class, and there's something, in fact lots of somethings, for everyone to enjoy.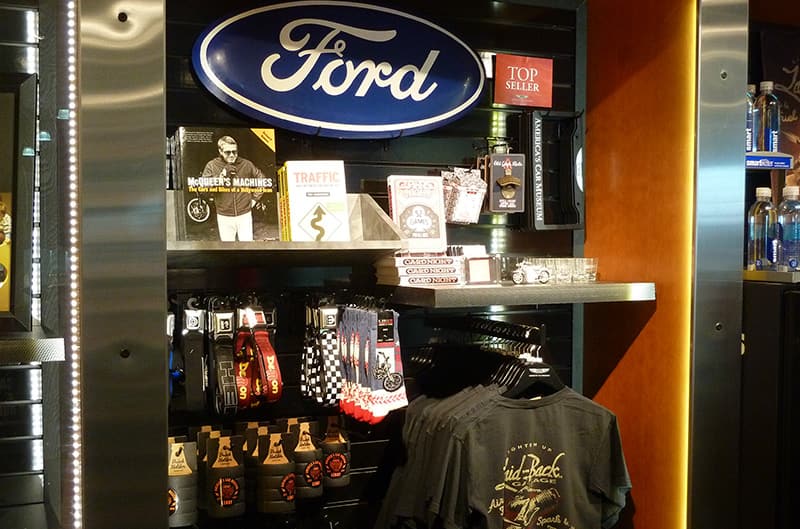 Once done in Tacoma, we headed for Gresham Oregon, just North of Portland, to visit first cousins who also are now retired, and split their time between Oregon and Southern California. This was our first chance to visit them in their new Pacific Northwest home, and they, too, showed considerable interest in the Bronco Sport. The original plan was to spend a night with them, and then a final night in Portland to see yet more friends that we missed last year. But a business situation cropped up on our second to last day, which necessitated that we skip the Portland stop all together and blast home in a single day.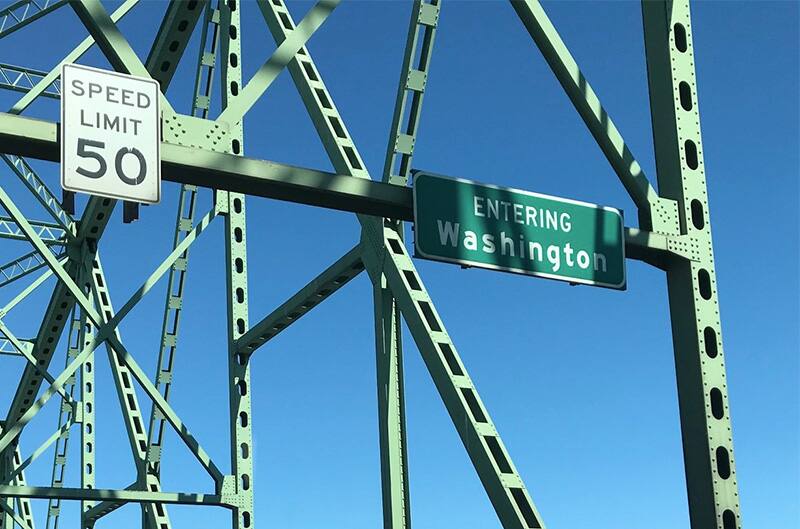 Now we would find out what sort of road-tripper stuff the Bronco Sport was really made of. The good news was that we'd be on Highway 5 the entire trip, generally the fastest and most direct route to our SoCal home. Among the challenges would be that there was still quite a bit of patchy rain and fog on the route, which would come in at something just over a thousand miles, for the day. We filled the tank, hit the road, and soldiered ahead.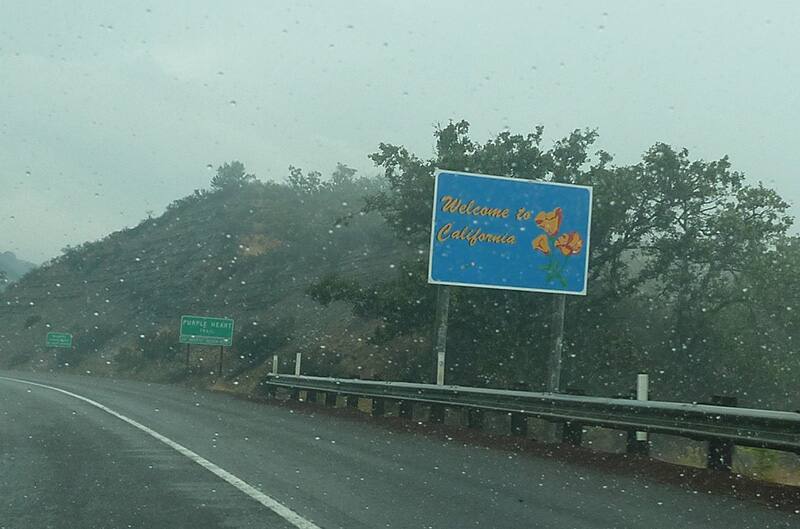 Everything was ducky until we hit the Oregon/Cali border, when the instrument panel lit up with tire warnings. Wife Linda was driving, and didn't feel anything off in the ride or handling, and I could watch the passenger-side rear tire in the outside rearview mirror, and it looked a little low — but for now holding air. We slowed down and hoped for a nearby exit. As the TPM counted down from 20 to 18 to 15 to 10 psi left in the tire, we curbed our speed and held our breath. Ah, finally — an exit to a remote Nowheresville burb called Hilt. A nice, big, clean full-service gas station in Hilt? No, of course not. With just 5 pounds of air showing in the tire, we cruised into the wide, mostly flat parking lot of a giant discount liquor store. As we parked and shut down, the TPM clicked to 2 psi, and the tire was seriously, and visibly flat.
Luckily there was cell phone coverage, allowing us to make the plaintive call to AAA — who advised a service truck would be out to us within 30 minutes. Which became 45 minutes. And then an hour. We still had about 700 miles to go, and decided we couldn't wait any longer for the mystery tow truck to emerge from the fog. So we bailed out the now much-emptier cargo bay to fish out whatever hardware was offered for such occasions. We were hoping against hope not to find a fix-a-flat bottle nor a "doughnut" spare. Fortunately, since the Bronco Sport is off-road rated, we instead pulled out a full sized Pirelli spare on a standard steel wheel (Thank you, Ford!).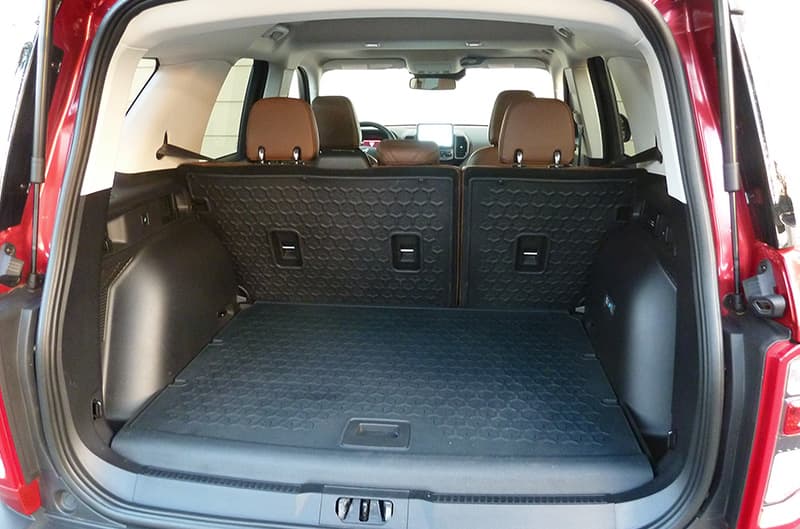 The compact jack was easily removed and placed under the rear suspension jacking point, and then with more than a bit of wrench and arm twirling, the little rig rose up off the ground, the lug nuts came off easily, and the wheels were swapped. The spare looked, felt and sounded full, so we loaded up, and headed cautiously south to find a gas station in order to check and fill the spare, if required. It was up to snuff so we cranked back up to normal highway speeds and cranked off another 700 or so miles to our driveway.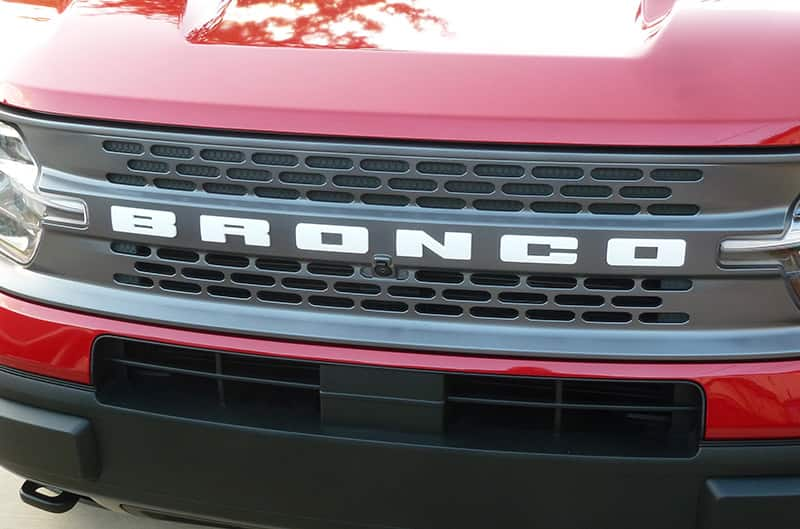 It was a 15-hours-on-the-road day, but we safely made it home, for a trip summary of 2,625.3 miles with a total engine-on running time of 47 hours and 30 minutes for the week, We averaged 26.4 miles per gallon, neatly meeting this model's EPA estimated mileage. Job Done.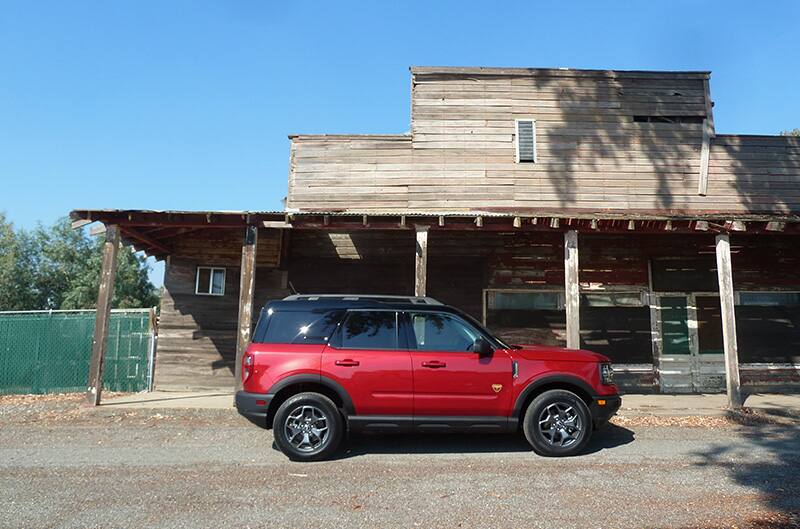 The Bronco Sport did everything we asked of it in style and comfort. And while it's not the hardcore, hammer-and-tong off-roader that the new Bronco 2-door is, it's a package that's useful and accessible for a wider variety of buyers. It'll faithfully serve as your everyday commuter, an ideal family hauler, and a road tripper par excellence.  And yes . . . I'd buy one.