BLAST FROM THE PAST: GALPIN FORD FOUR-ENGINE 'MACH IV' FUNNY CAR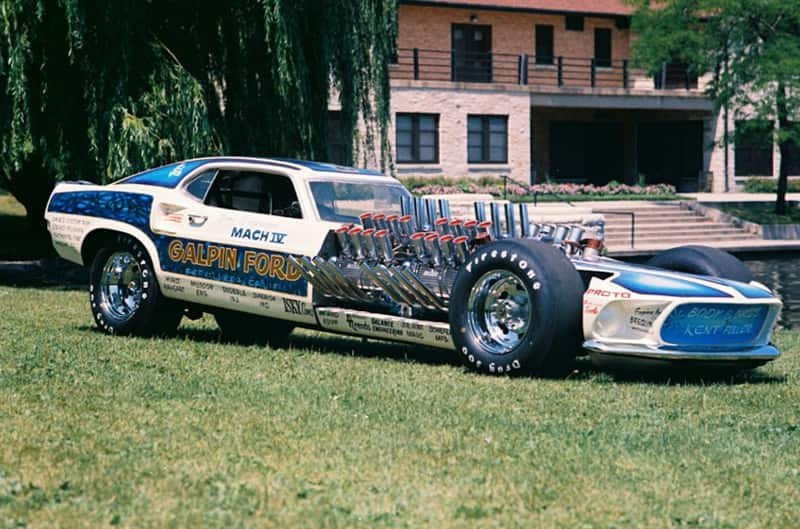 Multi-engined dragsters became 'A Thing' back in the 1960's. "What's the easy way to double the power of your quarter-miler? Simple – drop in another engine, and tie them crank-to-crank." Then "TV Tommy" Ivo went the whole thing two better by creating an exhibition dragster running four Buick V-8s, after building previous twin-engined rails. Of course no quad-motored dragster was legal for any NHRA class at the time, but such an outrageous machine was sure to be a hit at any custom car or racing car show, and a popular attraction exhibition racer at any drag racing event.
TV's exploits surely made an impression on long-haul trucker and drag racer Gary Weckesser, who saw the idea as an odd cross between an open-engined rail dragster and the Funny Car, a relatively new style of drag racer which was growing in popularity in the late '60s when Weckesser decided to try his own spin on a quad-motored quarter-miler. Being a Ford guy, he chose to fashion his Monster Mustang around a '69 Mach 1 Sportsroof body shape, yet unlike most "flopper" Funny Cars, the idea would be that the body would encompass only the panels from the firewall back, and a vestigial nose piece (including an OEM front bumper) and front spoiler that generally recalls the look of a '69 Mustang grille — leaving the entirety of the engines' bay completely in the open.
And since it was styled after a Mustang Mach I and would be powered by four Ford engines, it would have to be named the Mach IV.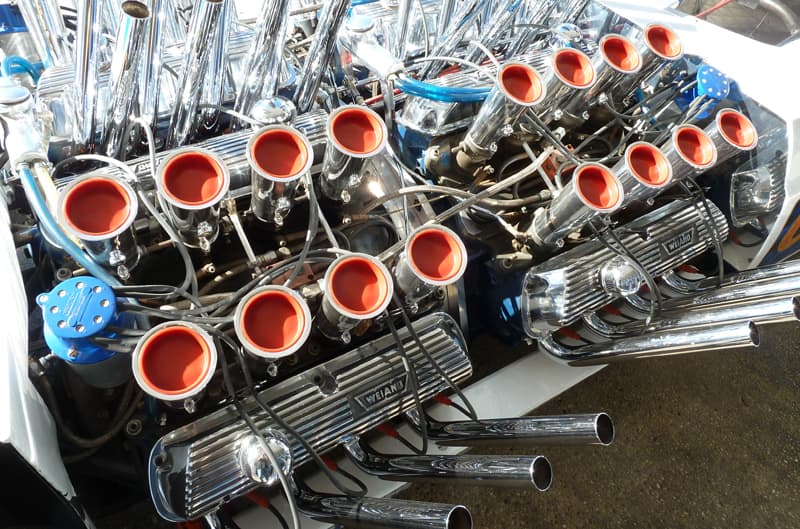 Weckesser built the car in 1969, with considerable sponsorship and product support from a variety of performance and racing companies, headlined by Galpin Ford, and including Wieand Equipment, Proto Tools, Superior Wheels, Enderle Injection, Milodon, Hurst Airheart, and Isky Racing Cams, just to name a few. You'll recall that many '69 Mach I's were powered by 351 Windsor V-8s, as then would the Mach IV. The quadrant of stoutly built Windsors packed very robust, primarily aftermarket internals, topped by Enderle tall-stack fuel injection. They were fired by Hunt Magnetos, and exhausted through 16 individual and chromed zoomy pipes. Talk about a cackler!
Speaking of chrome, the car was built to a very high standard – after all, it was an exhibition racer, and needed to be a bit of an exhibitionist. Nearly every component that could be polished and chromed was, and the fiberglass bodywork was finished in a groovy, very-60s style paint job of primarily white with faded and shaded metallic-blue accent panels, pinstriped with gold.
Running or static, the Mach IV was a showpiece to be sure.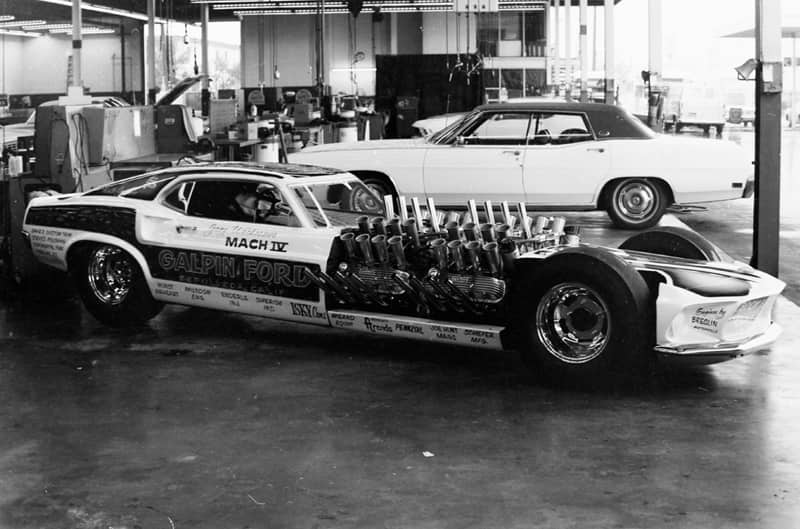 About now you may be wondering how all that power got to the ground. To be sure, it was no small feat of engineering. Just to make its burnouts ever more spectacular, the Mach IV runs full time all-wheel drive, so the result was "four turning and four burning." A small network of driveshafts, U-joints and other mechanical magic pipe all the power through a single clutch actuating a custom-built direct drive gearbox – there was no transmission ratios per se, and no chain-drives involved, either. As you might guess, driving this beast in a straight line was no small task.
Power? That's a subject of much speculation; the claimed combined power output was something in the neighborhood of 3,000 horsepower — something many experts don't buy into. For certain 750 horses per naturally aspirated Windsor would have been a lot back in the day, and it's our guesstimate that Mach IV's output would have been more like "a mere" 2,000 ponies. No matter, it's got multiple 8-second runs to its credit, with terminal speeds around 180 mph.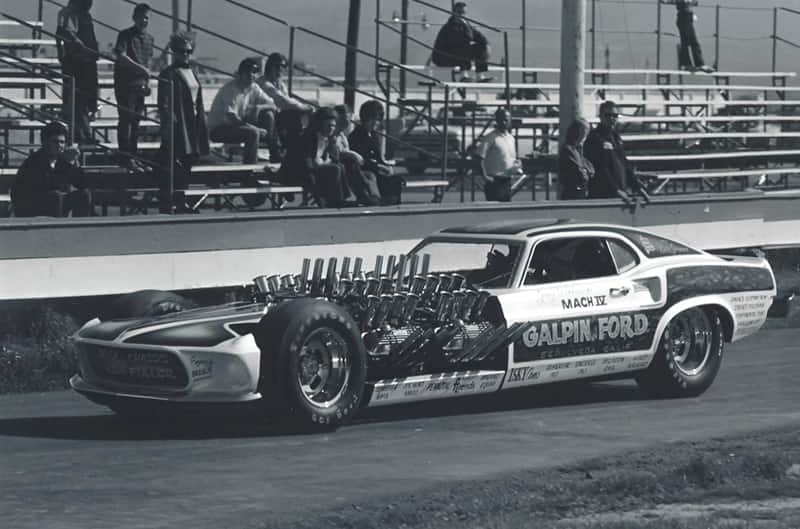 For a time there was another quad-motored exhibition dragster running around called the Wagonmaster; it used a GM station wagon-style rear body section and Buick V-8s, said to be built out of Ivo's old machine. Believe it or not — or luckily enough — the two cars actually met up in a match race. Just imagine the sound of those 16 cylinders all igniting at the same time!
Weckesser campaigned the car from 1969 through 1974 and then the rest of his life kinda got in the way, so it was retired and parked – for decades. Gary Weckesser recently passed away, but prior to that, his famous car was acquired by the Galpin Motors Collection, has been fully restored, and can now be seen at its marvelous Collection facility adjacent to the Galpin Auto Sports (www.galpinautosports.com) shops in the San Fernando Valley area of Los Angeles.
Hoping to see four-wheeled burnouts up and down the nearby I-405 Freeway? Not likely anytime soon.