THANK YOU AND AN ANNOUNCEMENT FROM BILL WARNER
The Amelia's Founder, Bill Warner, spends a few minutes with his dear friend, The Amelia's first and twentieth honoree, Sir Stirling Moss. All photos by Deremer Studios LLC.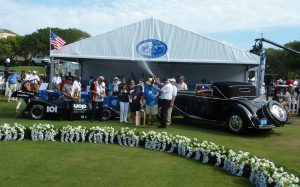 Except this one by me
Dear friends:
In late 1995, I answered the call to create a concours d'elegance on Amelia Island. With a laptop computer and help from friends Peter Brock, Brian Redman, Bill Ussery, the late Bob Snodgrass, Don Sommer, and Dave Holls, the program came together. With Sir Stirling Moss as our honoree we succeeded in getting the 1996 event behind us. I am often asked what my goal was. Well, it was to get to the second year. That's about it.
Bill Warner celebrates the Best in Show Winners at the 26th Annual Amelia Island Concours d'Elegance
Over the years, the show grew solidly and it wasn't until Barry Meguiar and the Meguiar's team recognized me in 2002 as the "Meguiar's Hobby Person of the Year" did we gain some national notoriety. After that recognition, we were off and running. We were then named by Southern Living magazine as one of the top 20 events in the South to attend. Autoweek named us as one of the top shows in the world, as did Octane and Magneto magazines. Octane twice named us the Best Motoring event in the World. And last year, Ray Hay's Gemstone Media won an Emmy Award for our NBCSN one hour special, Winning Amelia, capping 26 years of automotive passion.
We honored the best of the best, every year: Sir Stirling Moss (twice), Phil Hill, Hurley Haywood, Carroll Shelby, Brian Redman, Dan Gurney, John Surtees, Bobby Unser, Al Unser, Sr., Bobby Rahal, Jim Hall, Emerson Fittipaldi, Lyn St. James, Bobby Allison, Richard Petty, Derek Bell, Sam Posey, Vic Elford, David Hobbs, Parnelli Jones, Hans Stuck, Johnny Rutherford, Jochen Mass, Jackie Ickx, and Roger Penske.
Bill Warner (right) shakes hands with Honoree Roger Penske at the 25th Annual Amelia Island Concours d'Elegance
None of this would have happened without the unending support of my wife Jane. In 55 years of marriage she has always been by my side. Her hard work and sacrifice were key to every success and her words of encouragement softened every disappointment.
I'm also thankful for great friends and a great team which includes Maya Bargar, Brian Webber, Jan Stickles, Mark and Hilary Becker, Tim Pendergast, Jennifer Grosse, Chris Brewer, Chuck Dressing, and Dawn Lutringer. It takes a good team to get excellent results.
Last year as I wrote my "Chairman's Report" my desire was to recognize those we had lost in the past 16 months. I was truly shocked and depressed when I counted all those who worked as judges, staff volunteers, and entrants. It came to twenty-eight between the ages of 57 and 97. One starts to feel one's mortality when comprising such a list.
As I turned 78, I realized that my brain made promises my body could no longer keep. When a wave comes along which defines the direction the culture is going, I decide to catch that wave. My team interviewed six companies that expressed an interest in carrying on the Amelia legacy, and in the end, McKeel Hagerty and his Hagerty Group looked best to continue the legacy of great people in fabulous cars on a beautiful Florida island.
I am proud to be able to tell you that over the years, we have been able to raise over $4 million for local charities….charities that bring help to those that need it the most, Community Hospice and Palliative Care, Spina Bifida of Jacksonville, the Navy Marine Corps Relief Society, and the Shop with Cops Programs (for underprivileged children at Christmas) of both Fernandina Beach and Nassau County. We have also created a $29.4 million economic impact in Nassau County.
I truly look forward to working with the Hagerty team. McKeel and his organization have embraced our team to enhance the expansion of their automotive events program. I shall be the Chairman Emeritus of the Amelia Island Concours d'Elegance and anticipate contributing to an even more exciting concours in the future.
To all the sponsors, entrants, and volunteers, I extend my sincere thanks for 26 great shows since 1996. It has been a great ride and it will get better under new and youthful leadership.
Sincerely,
Bill Warner
About The Amelia Island Concours d'Elegance
THE AMELIA will be held March 3-6, 2022 at The Ritz-Carlton, Amelia Island and The Golf Club of Amelia Island. For the Amelia's full events schedule, including Saturday's Cars & Coffee at the Concours and Sunday's premier Amelia Island Concours d'Elegance, visit 
www.ameliaconcours.org
. The show's Foundation has donated over $3.75 million to Community Hospice & Palliative Care, Spina Bifida of Jacksonville and other charities on Florida's First Coast since its inception in 1996.