It was again my honor to serve as a judge at the 2016 Amelia Island Concours e'Elegance in Florida, and it continues to rank as among the world's great concours.  This was the 21st edition of this fabulous show and week full of wonderful automotive and automotive people events, and I think I've attended 8 or 9 times now.  It's a "don't miss" on our annual automotive calendar.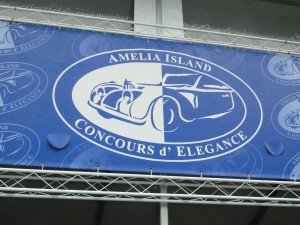 My late father always believed his "lucky number" was 21, but he seldom played blackjack.  His game was the craps table, and given his ability to walk up to a table, place a few bets, and walk away with a couple hundred bucks proved to me that he could somehow manage the numbers and his luck of the roll or draw.  21 was certainly a lucky number for Amelia Island.  Its always a spectacular event, but this year seemed even more special and enjoyable, the cars, the people, the something I can't quite lay my hands on.  But Amelia 2016 was memorable, all said and done.
Speaking of luck Chairman and Founder Bill Warner sure knows how to conjure it when he needs it.  Rain was on and off predicted all weekend, most particularly Sunday afternoon about the time of the last hours of the awards presentation.  So the show accelerated and compressed the judging and awards timelines so it would be done around 2:30 instead of the usual 4:00 or so.  It was great, made the day go faster, and Warner, again, rang the luck bell, as the waterworks held off until the last trophy was given, and the last show car had cleared the field.  And then it rained holy hell for a few hours.
As do most big game concours, Warner and his team develop a set of special classes each year and this year two of them were the Spanish Pegaso and SCCA Trans-Am racing greats from the early days of this much missed and magnificent racing series.  Something like 40% of the entire Pegaso production was on hand at Amelia, including several one-offs.  And everyone loved the rumbling, barking Trans-Am cars.
Part of what makes Amelia so fabulous is the venue; home base is a Ritz-Carlton on the beach, with a country club attached.  I want to live there.
Amelia each year honors a motorsport legend, and this year's was a great one: Hans-Joachim Stuck is one of the world's great sports car racers, with many many wins under his belt, at the Nurburgring, Le Mans, Sebring, you name a big game sports car or endurance race, and Stuck has been there, won that.  Born in Garmisch the affable German clearly enjoyed himself, telling lots of great stories, shaking hands, posing for selfies, and signing countless autographs, Stuck (prounced more like Schtook, than stuck) is known for his lighthearted personality and penchant for practical joking when he was a driver.  He enjoyed a 40 year career, and by any measure is among the best.  He took a brief shot at Formula 1 but never got much traction there, instead acknowledging that sports cars were his think, and making the majority of his career there, primarily in BMWs and big banger Porsches.  His father, Hans Stuck, was also a driver of considerable note, as an grand prix and top speed record pilot in the pre-WWII silver arrow days of Mercedes-Benz and Auto Union record racing.
I won't take you car by car or class by class but here are some photos I thought you might enjoy.
And if you can be in Florida next March, you must visit; here's thh scoop: www.ameliaislandconcours.com