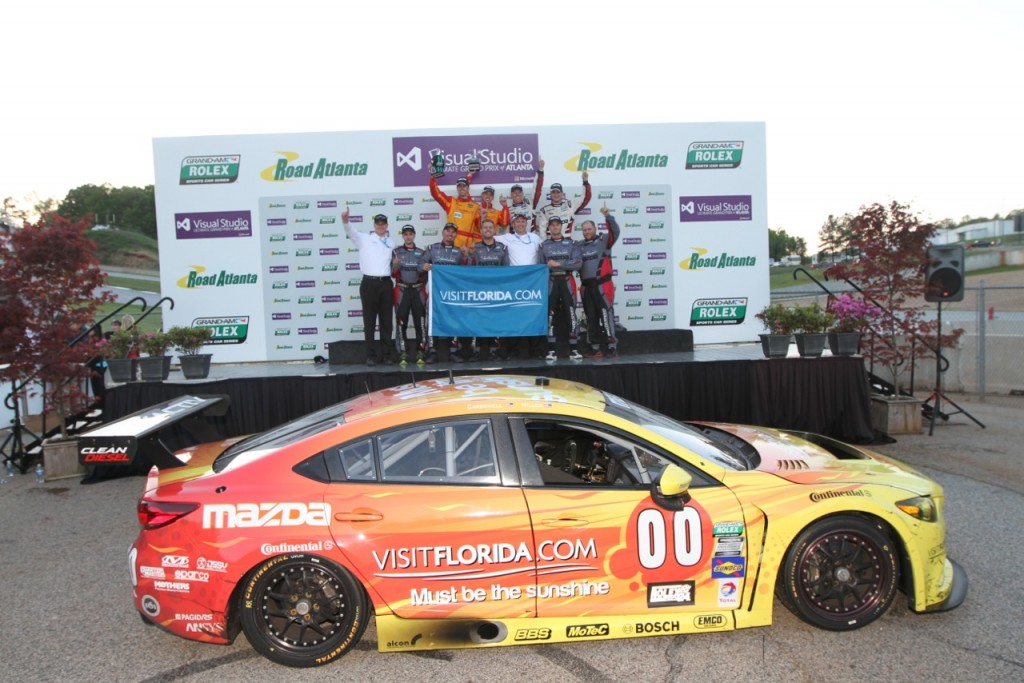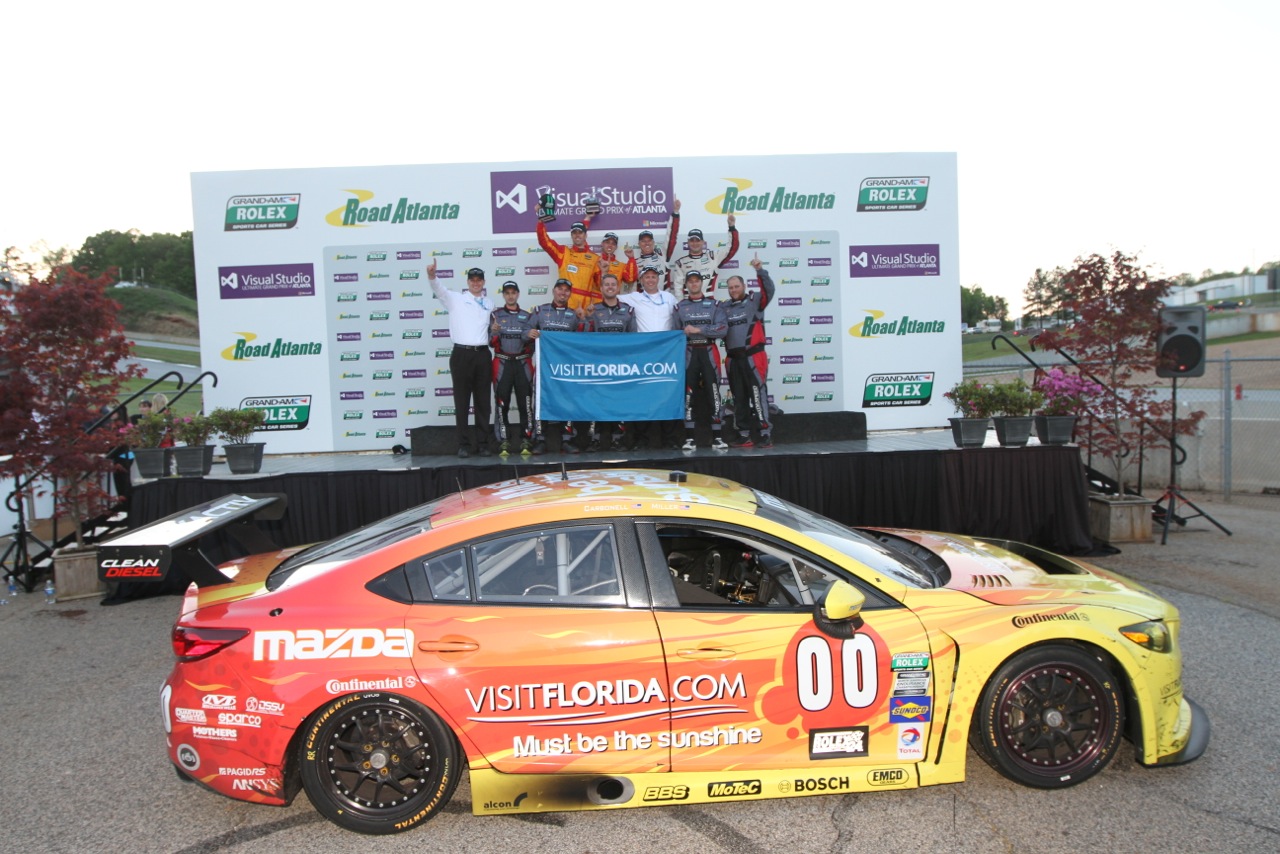 I'm a huge fan of Grand-Am sports car racing, and I thought you might enjoy this item from my friends at Mazda, about a most innovative car and a significant race win. – MS
— Visit Florida Racing Mazda6 Takes Grand-Am GX Win At Road Atlanta —
April 22, 2013 (IRVINE, Calif.) In only its fourth race, the all-new Mazda6, powered by a production-based SKYACTIV-D Clean Diesel engine, scored a win in the Rolex Grand-Am GX race at Road Atlanta. Joel Miller and Andrew Carbonell drove the #00 Visit Florida Racing Mazda6 to the win, with team-mates Sylvain Tremblay and Tom Long finishing third in the similar #70 SpeedSource Mazda6 SKYACTIV-D. It was a three-way battle for most of the race with a Porsche Cayman splitting the two Mazdas.
This win represented a day of firsts for Grand-Am competition and for Mazda Motorsports. This is the first-ever win for a diesel-powered car in Grand-Am competition. It also marked the first win for the all-new Mazda6 in any race series. It was the first Grand-Am race win for drivers Joel Miller and Andrew Carbonell. Miller is a former Mazda Motorsports Scholarship winner, having won the Skip Barber National Championship in 2007. Carbonnell has been racing Mazdas with Freedom Autosport for many years, and was part of the team that delivered the 2011 Continental Tire ST Manufacturers Championship to Mazda. Carbonell was substituting for Miller's usual teammate, Tristan Nunez, who had a schedule conflict with another race in Long Beach.
Quotes:
John M. Doonan, Director, Mazda Motorsports, Mazda North American Operations: "In 1991, we were the first Asian company to win the 24 Hours of Le Mans, and today's GX-class win with the Mazda6 SKYACTIV-D clean diesel proves that Mazda is not afraid to face a challenge. This is the first of what we hope will be many victories, but the best part of it is how well our road-car engineers from Mazda Motor Corporation worked with the racecar engineers from SpeedSource. We've always said that the best street cars make the best racecars, and, with more than half of the components in the race engine being shared with the street engine, this program is a solid proof-point, as well as proof of the quality, durability and reliability of all Mazdas. Racing is a true team sport, and we would not have been able to achieve today's victory without the support of everyone at Mazda R&D, SpeedSource and our fantastic partners at Castrol and VISIT FLORIDA. This one's for everyone who touched the program in some way."
Sylvain Tremblay, Owner, SpeedSource Engineering: "While Joel and Andrew sprayed the champagne, this win truly defined the expression, 'team work.' The victory is shared with everyone at SpeedSource, Mazda North American Operations and Mazda Motor Corporation, and is a tribute to the thousands of hours of hard work over many months. After that rough debut at Daytona, everyone stepped up to make sure we had a fast, reliable car as soon as was humanly possible. The normal plan with a new car is to spend the first year in development, the second year seeking race wins, and challenging for a championship in year three. We are already at our year-two status after four races. We can't wait to get to the Belle Isle course in Detroit for round five."
Joel Miller, co-driver, #00 VISIT FLORIDA RACING Mazda6: "The new Mazda6 prepared by SpeedSource ran perfectly. The torque of the SKYACTIV-D pulled up the elevation changes around Road Atlanta circuit strongly and the Mazda6 handled beautifully. During the course of the race we attacked when needed and paced ourselves when required. The event had only one caution during the two-hour and 45 minutes race, thus there was hardly any time to relax. The SpeedSource crew was in constant communication with myself and co-driver Andrew Carbonell as we worked through traffic. Bringing home the victory for the SpeedSource crew who worked so hard on this program brings great joy and I cannot wait to continue the program. Over the past eight years Mazda has taken me from karting through their ladder program. I'm proud to be racing the Mazda6 and to be a part of Mazda history in gaining the first SKYACTIV Technology victory."
About Mazda, Mazda Motorsports, and MAZDASPEED
Mazda is the number-one brand for road-racers across North America among both club racers and professionals. Thousands of Mazda powered grassroots racers compete in various classes with the SCCA and NASA highlighted by Spec Miata, the world's largest spec class with over 2,500 cars built. In 2006 Mazda Motorsports established the MAZDASPEED Motorsports Development Ladder to assist racers in moving up through the ranks. In 2010 this was expanded to include the Mazda Road to Indy. Key to Mazda's success is strategic partnerships with the Skip Barber Racing School and Mazda Raceway Laguna Seca.
MAZDASPEED Motorsports is managed by Mazda North American Operations (MNAO). MNAO is headquartered in Irvine, Calif., and oversees the sales, marketing, parts and customer service support of Mazda vehicles in the United States and Mexico through nearly 700 dealers. Operations in Mexico are managed by Mazda Motor de Mexico in Mexico City.
Consumer information can be found at www.mazdausa.com, with press information at www.mazdausamedia.com. Racers and fans can follow the action on facebook (Mazdaspeed Motorsports).